Telegram Beta for Android
Telegram is the only messaging application on Android offering a simple and easy-to-use, quick user experience, with full end-to-end encryption, unlimited storage, and no pesky ads. Apart from one-on-one and group messaging, you can create your channels and broadcast content to your followers.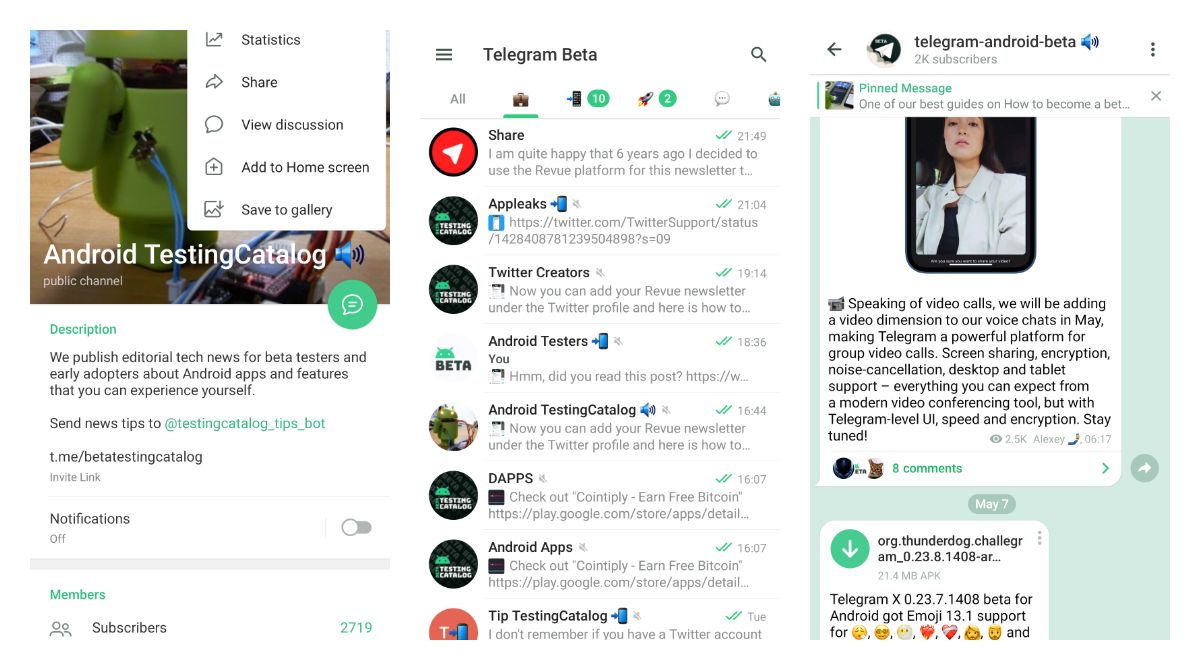 How to become a Telegram beta tester?
The beta version of the Telegram app is not distributed via Google Play, unlike Telegram X. Telegram Beta has a different package id and can be installed as a standalone app alongside the stable version. To get it, you need to install the APK file by yourself. The easiest way is to visit our @tgtester channel on Telegram and grab the latest available version. Further updates will be distributed as automatic in-app updates. You can find more details on that from our "How to become a beta tester for Telegram" post.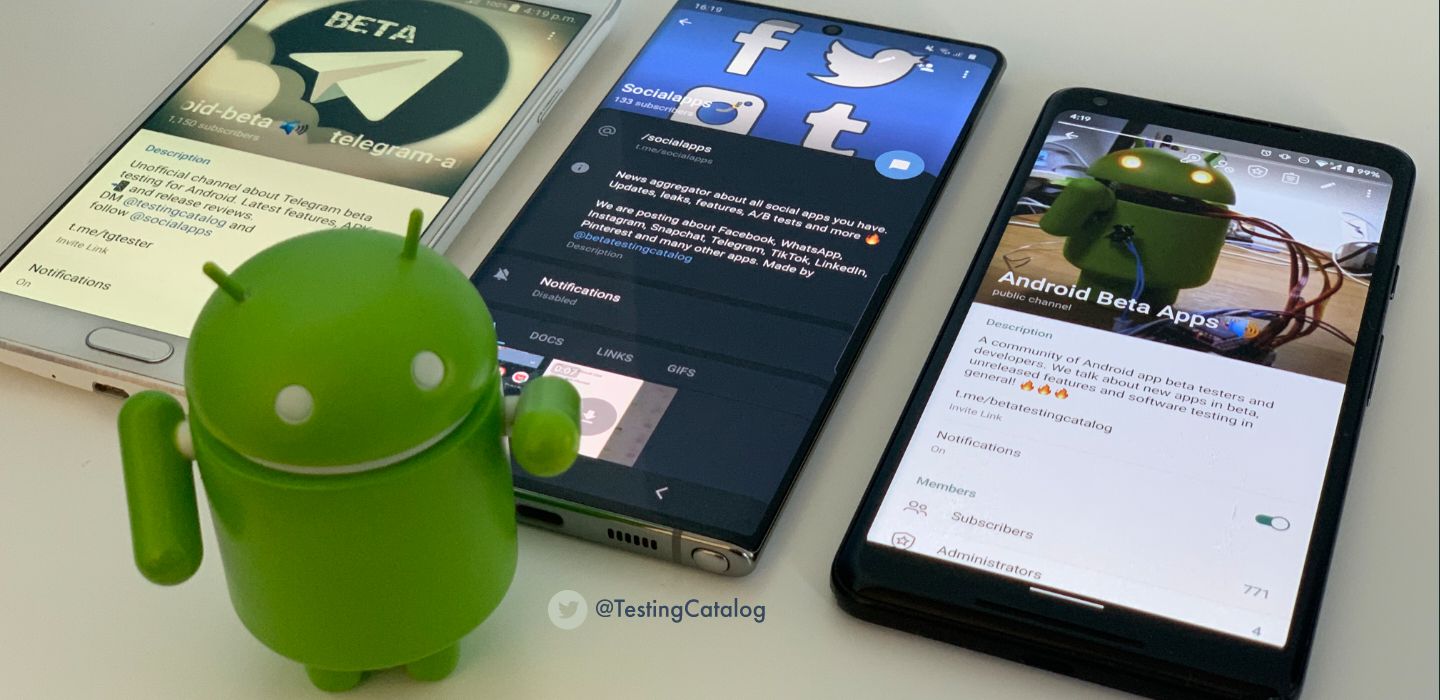 How to download the official Telegram beta build
Head over to the App Center page for Telegram beta.
Download the latest APK file.
Make sure that installation from unknown sources is allowed.
Install Telegram beta APK.
How to leave Telegram beta?
Because Telegram beta comes as a standalone APK, there is no special process of leaving it. You can simply install a Stable version from Google Play and uninstall Telegram beta app.
Side-load Telegram APKs
Telegram beta APK can be also downloaded from unofficial Telegram channels or APKMirror. The installation and update process will remain the same.
Updating Telegram beta
Telegram beta has in-app updates process build-in. It means that if you have a beta APK installed, as soon as a new update will be released, you will see a pop-up in the app asking you if you want to download a new update. This means that you will need to side-load beta APK only once and Telegram will handle all further updates for you.
Telegram stable releases
Telegram beta normally receives new versions months or weeks ahead of its stable version. Once a major beta update is out, you will receive a bunch of minor bug fix update afterwards. After beta testing is finished, a new major version will be released on Google Play along with a blog post that explains all newly released features in detail. Until a new major beta release, beta and stable apps will remain identical for some time.
Besides the stable app that is distributed over Google Play, Telegram has another standalone stable version that is distributed directly from their website. This app is supposed to be almost the same as stable but with fewer restrictions over its content and with a bit more frequent updates.
Telegram channels and bots
Telegram has several official channels where can find some information about updates and recent changes. However, there is no official channel about Telegram beta and that's why @tgtester exists, to cover Telegram updates before they are getting released to everyone.
Unofficial Telegram channels
Official Telegram channels
Useful bots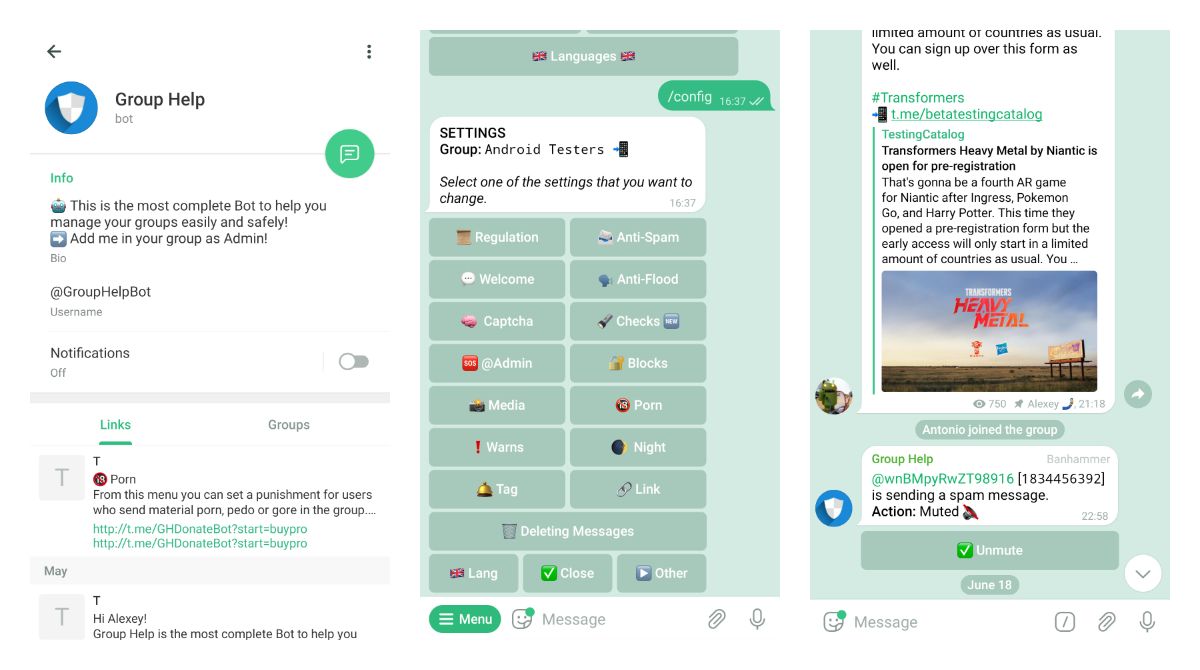 Do you know more? Send us a tip on the Telegram Testers group to add it to the list.
Features Overview
Secure messenger
All Telegram messages are always securely encrypted. Messages in Secret Chats use client-client encryption, while Cloud Chats use client-server/server-client encryption and are stored encrypted in the Telegram Cloud. This enables your cloud messages to be both secure and immediately accessible from any of your devices – even if you lose your device altogether.
Channels and groups
These two are the basic content distribution channels of Telegram. Channels broadcast messages from one user to many and groups allow many users to chat openly. Users can post text, images, videos or any other files to both of them. It makes it a great platform for news brands and application developers who want to distribute their apps without uploading them to Google Play.
Voice and video chats
Voice chats are already available for both, channels and groups while video chats will catch them up at some point. Voice chats became a quite popular format after Clubhouse debut and Telegram is not getting behind.
Customization and theming
Telegram has an advanced customization and theming engine. There you can create a fully custom theme and share it with others. It also has a verified themes channel with tons of different variants to try.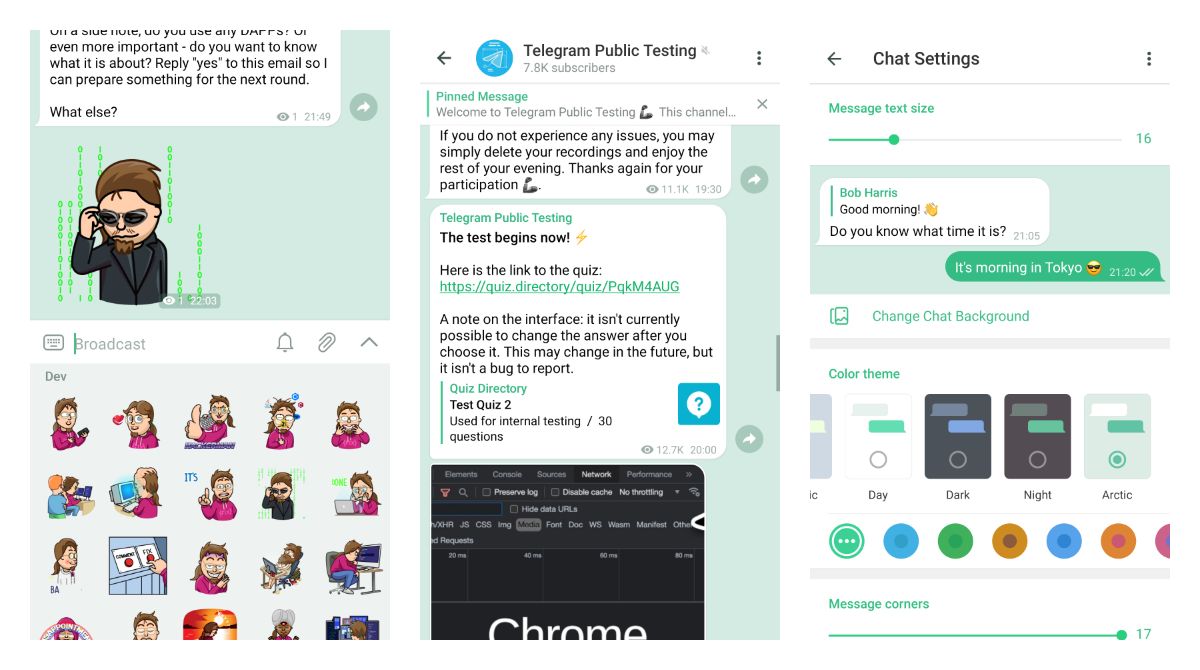 Open-source nature
The client-side of the Telegram app is open-source. It means that other developers can use it in order to create alternative Telegram clients as well. At the same time, it can be audited by any security researcher to make sure that there are no issues with encryption.
Music and audiobooks player
Apart from being a good messenger, Telegram can also work as a music or audiobooks player. Its built-in music player and access to a wide range of different music channels make it a good alternative to full-featured music players.
Reporting bugs for Telegram
Telegram opened a "Bugs and Suggestions" page quite recently where users can report their issues, suggest new features and vote for others. Fixed or implemented features will be marked as Done afterward. Users can also subscribe to conversations and sort items by date or by rating.
Alternative Telegram clients
It is worth mentioning that Telegram also has an official client that is called Telegram X. Apart from this, one of the most popular third-party clients is called Plus Messenger.
Links and updates
If you want to catch up with the latest news about Telegram and other Telegram apps, you will need to subscribe to our weekly newsletter with a full summary of different news and updates on these topics 📩
You can also find all recent Telegram features, news and updates that we've reported by navigating to the Telegram tag page 👇
Other Telegram guides