Snapchat beta for Android
This article can guide you on how to get access to the new beta and experimental Snapchat features on your Android device
---
Snapchat is a social media platform, mainly focused on the younger generations and is known best for its AR Lens feature. The app became very popular rapidly and grew its feature set over the past years.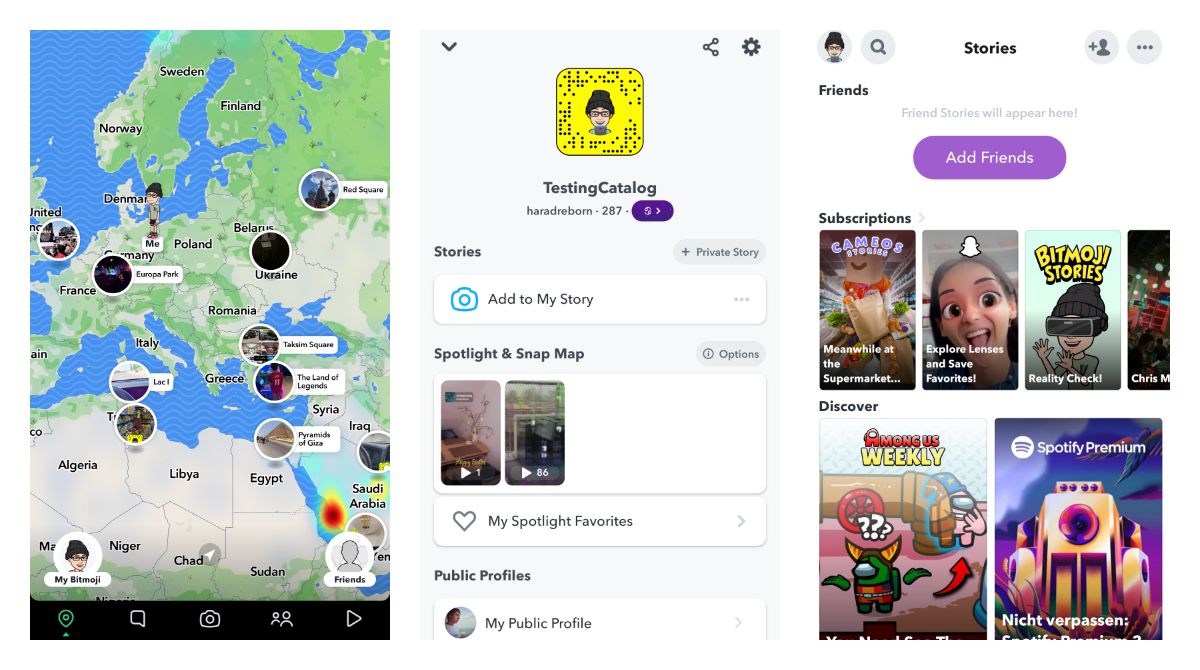 How to become a Snapchat beta tester?
Snapchat for Android has two release tracks on Google Play that are publicly available - stable and beta. You can become a beta tester for Snapchat from both, web and Android Google Play clients. In addition, Snapchat has an option to opt-in for beta testing straight from the app itself.
From the Snapchat app
Previously, it was possible to get a link to the opt-in form on Google Play straight from the settings menu of the Snapchat application. This option is not currently available but it may return in the future.
Open the Snapchat app and go to your profile.
Hit the gear icon on the top right to open the settings.
Scroll down until you find the 'Snapchat Beta' option, select it and tap on the 'Opt-in' to enter the beta program.
Join on the web
Open Snapchat Beta OPT-IN link.
Press on the "Become a Tester" button.
Press on the "download it on Google Play" link.
See the app title to be updated with "Beta" and update it to the latest version.
Join on Android
Search for Snapchat.
Open the Snapchat application page.
Scroll down until the "Join the beta" section.
Tap on the "Join" button and confirm it on the pop-up window.
Wait until the app title to be updated with "Beta" and update it to the latest version.
Bear in mind that the OPT-IN process via Google Play may take up to several hours.
What does it mean "beta is full"?
If you are trying to join via Google Play for Android, you can try to do the same via the web link. Google Play has a bug that shows "beta is full" status incorrectly and using a web OPT-IN link may be a workaround. However, the "Beta is full" message means that the current testers limit was reached already. If you see this message on the web page, it means that there is no way to join it until Snapchat Devs increase the limit of participants.
📲 Please check the current status on the official status page for the Snapchat beta.
Why don't I have all features that exist for others?
Snapchat for Android has different ways to deliver new features to end-users:
Client-side updates - come as a part of a new APK version. New client-side features usually available to everyone but they are rare.
Server-side A/B tests - these updates make certain features available to a limited amount of users.
Gradual rollouts - a process where Snapchat releases new features to a wider percentage of users.
A/B tests and gradual rollouts are the reasons why you may see some features that others don't and another way around. While for gradual rollouts, you may just need to wait for a little bit longer to receive it, with A/B tests it may happen that you won't receive a certain feature at all.
How to leave the Snapchat beta program?
You can leave the Snapchat beta program at any time in the same way as you signed up via Google Play on the web or Android. Leaving the beta program will affect your access to the available set of client-side and server-side features.
Leave on the web
Open OPT-IN link.
Press on the "Leave the program" button.
Press on the "download it on Google Play" link.
Uninstall the app and reinstall it again from Google Play.
Leave on Android
Search for Snapchat.
Open the Snapchat application page.
Scroll down until the "You are a beta tester" section.
Tap on the "Leave" button and confirm it on the pop-up window.
Uninstall the app and reinstall it again from Google Play.
Leaving the beta release track means that you will only be receiving stable Snapchat updates. These updates are being released less frequently but if you face any issues with your Snapchat app it could be a way to solve them. Leaving beta release track is recommended in case if you experience technical issues with the app like application crashes or UI freezes for example.
Side-load from APKMirror
It is also possible to side-load Snapchat beta APKs if you want to avoid using Google Play for some reason. The easiest and safest way to do so will be checking and downloading the latest updates from APKMirror. There you can find both stable and beta releases with the "beta" prefix in the version name.
Snapchat Alpha testing
Previously, Snapchat was opening its Alpha release track to the public while Snap devs were testing the new UI redesign that you are probably using right now as well. Initially, during the time when this test was internal, it was spotted by reverse engineers and owners of rooted Android devices could get access to this feature by modifying one of its application flags. Later in time, the Snapchat team made their alpha release track available to everyone who knows the trick of how to enable it. In order to do so, users had to navigate to Bermuda island on the SnapMap. When this Alpha test became promoted to the beta release track, It became closed again.
Snapchat beta and the role of Google+
Historically, when Google Play introduced the concept of beta testing in 2014, developers were offered to attach a Google+ community to their beta release track so they got collect necessary feedback from beta testers. Some of these communities were super small and some were big (up to 100k members). But Snapchat's community on Google Plus was exceptional, it had around 3 million participants. This happened because Snapchat added a link to this community inside the application itself, exposing it to a much broader audience than just beta testers.
At this point, it was not much about beta testing anymore. Google+ community members were sharing their Snapcodes over there hoping to connect with more subscribers. Back in the days, the easiest way to do this was by sharing an image with your Snapcode so other users could scan it from the app. Hundreds of images were posted to this community every minute. At some point, it caused a very significant load of Google Cloud services and the Google+ team made a decision to shut this community down. This was an exceptional case.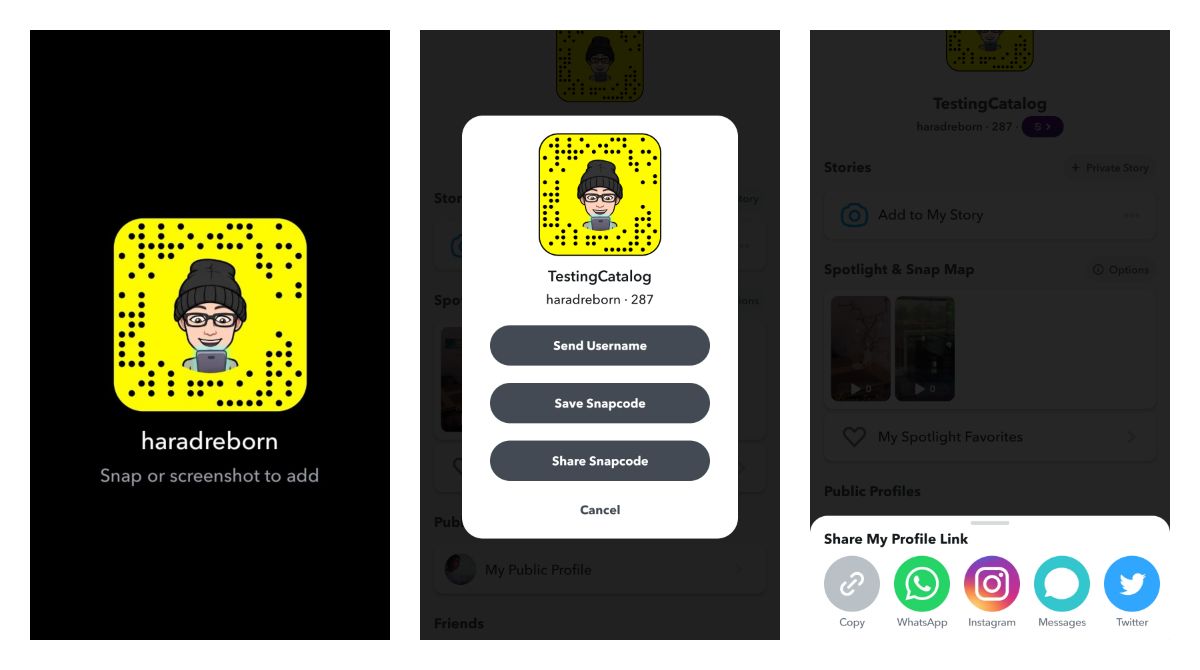 On the next day, TestingCatalog created a new community on Google+ with the same name "snapchat-android-beta" but specified explicitly that it is unofficial and will be dedicated to Snapchat updates and other news. In one week, it grew from 0 to 30k users organically just because Snpachatters were searching for this group on Google+ by themselves 🔥
The feature of using Google+ communities for beta testing was abandoned by Google at some point and Google+ was shut down in 2018 as well. Snapchat beta remained to be public and accessible for new testers.
Best Snapchat features to try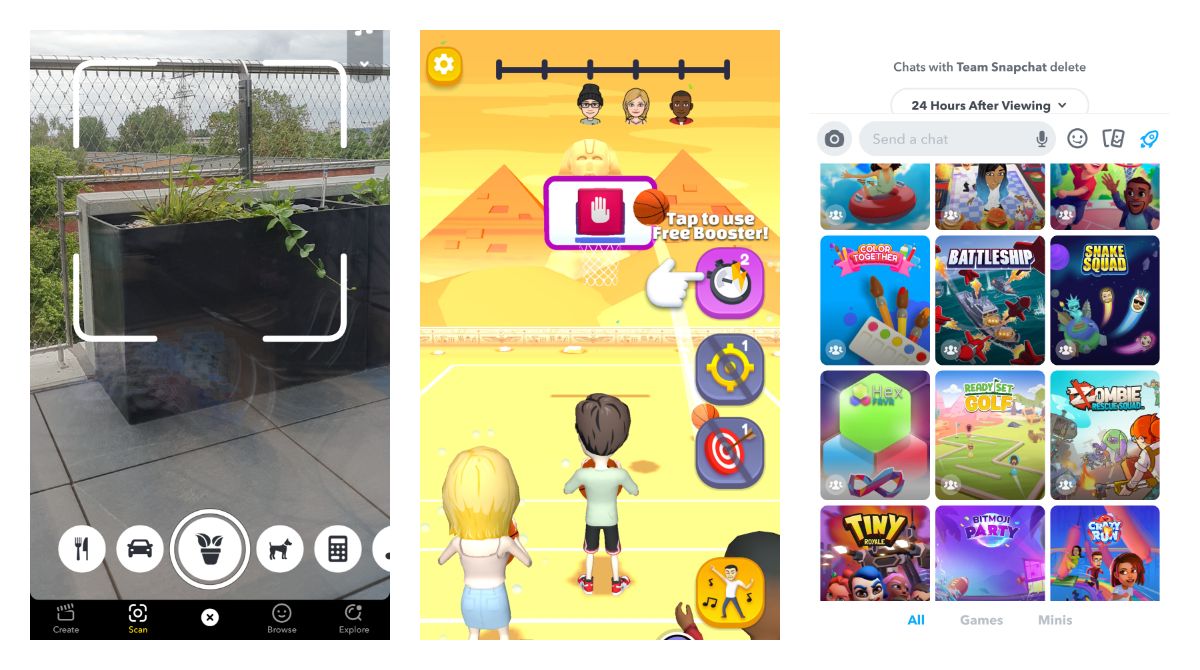 Expirable Content
The first, introduced by Snap.Inc - the company behind, is the disappearing content. Any photo or video Snap can be set to vanish in 24 hours. Also, previously, messages were disappearing instantly, but fortunately, now Snapchat chats can be kept for up to 24 hours.
AR Lenses
Snapchat Lenses are AR-powered and are fun to use with all of the included unique masks (bunny ears, dog ears, and nose, etc.), providing a real life-like experience.
SnapMap
SnapMap is basically a map, where all your friends' location is being displayed. For more information, please, read our detailed feature review titled "Snapchat's SnapMap feature and everything you need to know about it".
Spotlight
After the success of TikTok and its short videos format, Snapchat implemented its feature for this content format. Spotlight is focused on short videos that you can scroll vertically.
Other features worth checking: Games and Minis, Lenses Scan, Lenses Studio, Bitmoji integration.
Other Android apps by Snap worth checking
Bitmoji
Bitmoji is a standalone app that provides customizable avatars to Snapchat and other apps. There you can change your style and the way how your profile will appear on SnapMap or Bitmoji stories for example.
Zenly
Is a standalone app that utilizes the SnapMap feature to let you connect and meet with your friends.
Snapchat description from Google Play
Snapchat is a fast and fun way to share the moment with friends and family 👻

Snapchat opens right to the camera, so you can send a Snap in seconds! Just take a photo or video, add a caption and send it to your best friends and family. Express yourself with Filters, Lenses, Bitmojis and all kinds of fun effects.

SNAP 📸
• Snapchat opens right to the camera. Tap to take a photo, or press and hold for video.
• Add a Lens or Filter to your photo – new ones are added every day! Change the way you look, dance with your 3D Bitmoji and discover games you can play using your face.
• Create your own Filters to add to photos and videos – or try out Lenses made by our community!

CHAT 💬
• Stay in touch and chat with friends with live messaging, or share your day with Group Stories.
• Video chat with up to 16 friends at once. You can even use Filters and Lenses!
• Express yourself with Friendmojis – exclusive Bitmojis made just for you and a friend.

STORIES
• Watch friends' Stories to see their day unfold.
• Watch Stories from the Snapchat community, based on your interests.
• Explore new perspectives from top creators.

DISCOVER 🔍
• Watch breaking news and exclusive Original Shows.
• Keep up to date with Stories from top publishers.
• Enjoy a curated feed – made to fit your phone.

SNAP MAP 🗺
• See where your friends are hanging out, if they've shared their location with you.
• Share your location with your best friends, or go off the grid with Ghost Mode.
• Discover live Stories from the community nearby, or across the world!

MEMORIES 🎞️
• Look back on Snaps you've saved with free cloud storage.
• Edit and send old moments to friends, or save them to your Camera Roll.
• Create Stories from your favourite memories to share with friends and family.

FRIENDSHIP PROFILE 👥
• Every friendship has its own special profile to see the moments you've saved together.
• Discover new things you have in common with Charms. See how long you've been friends, your astrological compatibility, your Bitmojis' fashion sense and more!
• Friendship Profiles are just between you and a friend, so you can bond over what makes your friendship special.

Happy Snapping!
Links and updates
Snap News
For more news regarding upcoming releases, you can visit Snapchat's News page.
Snapchat on the web
Some features have web versions and here are the links to them:
Other Snapchat resources can be found via the official website.
Links
If you want to catch up with the latest news about Snapchat and other Social apps, you will need to subscribe to our weekly newsletter with a full summary of different news and updates on these topics 📩
You can also find all recent Snapchat features, news and updates that we've reported by navigating to the Snapchat tag page 👇
Other Snapchat Guides