YouTube is a video-sharing platform everyone has heard of, with its best features right on your mobile device. Watch videos without a pause, upload your own content, and do whatever your heart desires. Like and share your favourite videos, subscribe to millions of channels and engage with others in the comments section.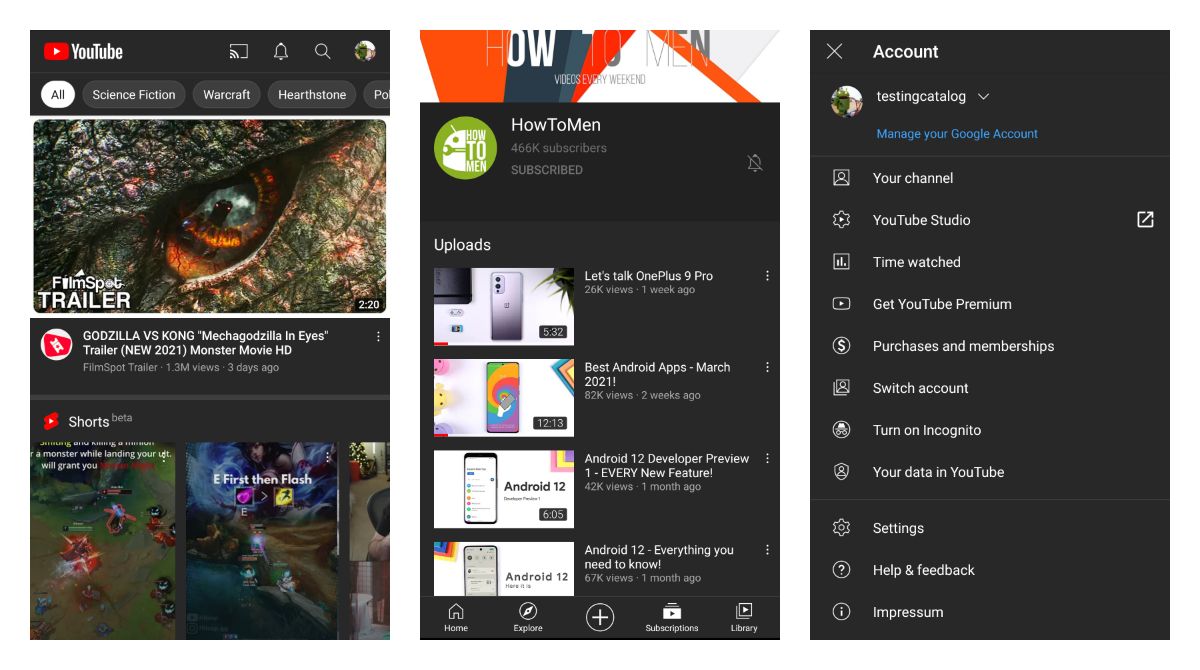 How to become a YouTube beta tester?
Youtube for Android has two release tracks on Google Play that are publicly available - stable and beta. You can become a beta tester for YouTube from both, web and Android Google Play clients.
On the web
On Android
Search for YouTube.
Open YouTube application page.
Scroll down until the "Join the beta" section.
Tap on the "Join" button and confirm it on the pop-up window.
Wait until the app title to be updated with "Beta" and update it to the latest version.
Bear in mind that the OPT-IN process via Google Play may take up to several hours.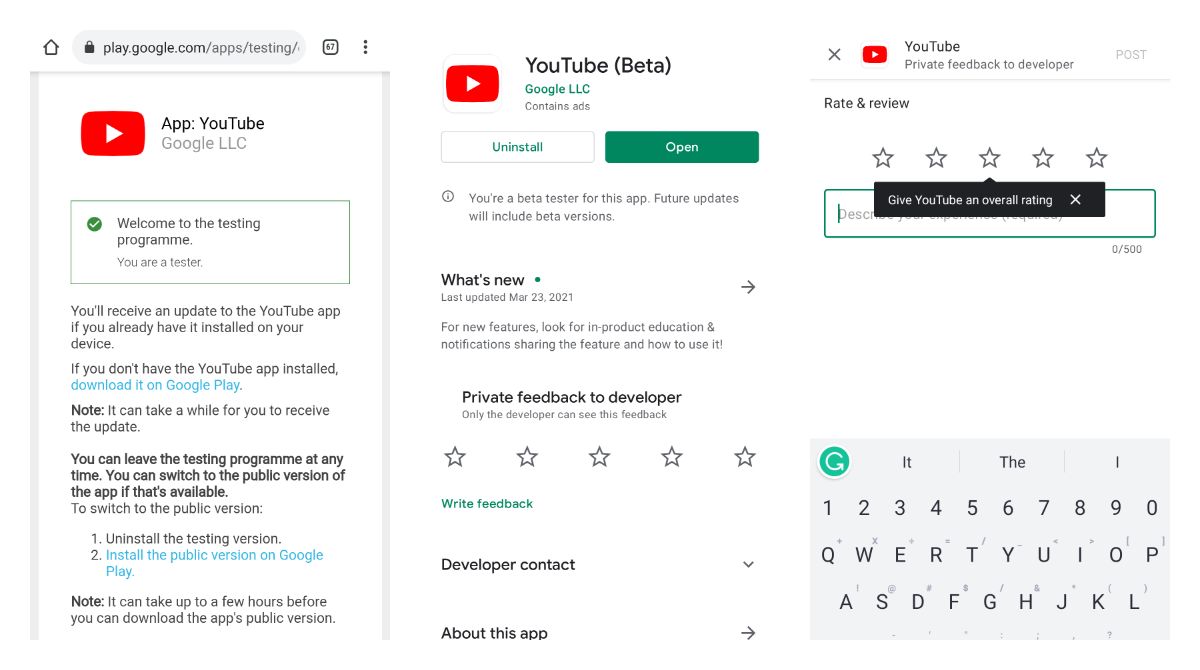 What does it mean "beta is full"?
If you are trying to join via Google Play for Android, you can try to do the same via the web link. Google Play has a bug that shows "beta is full" status incorrectly and using a web OPT-IN link may be a workaround. However, the "Beta is full" message means that the current testers limit was reached already. If you see this message on the web page, it means that there is no way to join it until Google Devs increase the limit of participants.
Why don't I have all features that exist for others?
YouTube for Android has different ways to deliver new features to end-users:
Client-side updates - come as a part of a new APK version. New client-side features usually available to everyone but they are rare.Server-side A/B tests - these updates make certain features available to a limited amount of users. Gradual rollouts - a process where Google releases new features to a wider percentage of users.
A/B tests and gradual rollouts are the reasons why you may see some features that others don't and another way around. While for gradual rollouts, you may just need to wait for a little bit longer to receive it, with A/B tests it may happen that you won't receive a certain feature at all. Gradual rollouts usually being officially announced on the YouTube product blog in advance.
How to get premium experimental YouTube features?
YouTube also offers a set of experimental features exclusively to its Premium users as a part of a subscription package. All available experiments that take place at this moment can be found on the "New" page. YouTube Premium is also available as a free trial so you can easily try it yourself first.
How to leave YouTube beta program?
You can leave YouTube beta program at any time in the same way as you signed up via Google Play on the web or Android. Leaving the beta program will not affect your access to experimental features in case if you have a premium subscription.
On the web
On Android
Search for YouTube.
Open YouTube application page.
Scroll down until the "You are a beta tester" section.
Tap on the "Leave" button and confirm it on the pop-up window.
Uninstall the app and reinstall it again from Google Play
Leaving the beta release track means that you will only be receiving stable YouTube updates. These updates are being released less frequently but if you face any issues with your YouTube app it could be a way to solve them.
Side-load from APKMirror
It is also possible to side-load YouTube beta APKs if you want to avoid using Google Play for some reason. The easiest and safest way to do so will be checking and downloading the latest updates from APKMirror. There you can find both stable and beta releases with the "beta" prefix in the version name.
YouTube description from Google Play
Get the official YouTube app on Android phones and tablets. See what the world is watching -- from the hottest music videos to what's popular in gaming, fashion, beauty, news, learning and more. Subscribe to channels you love, create content of your own, share with friends, and watch on any device.
YouTube Shorts Beta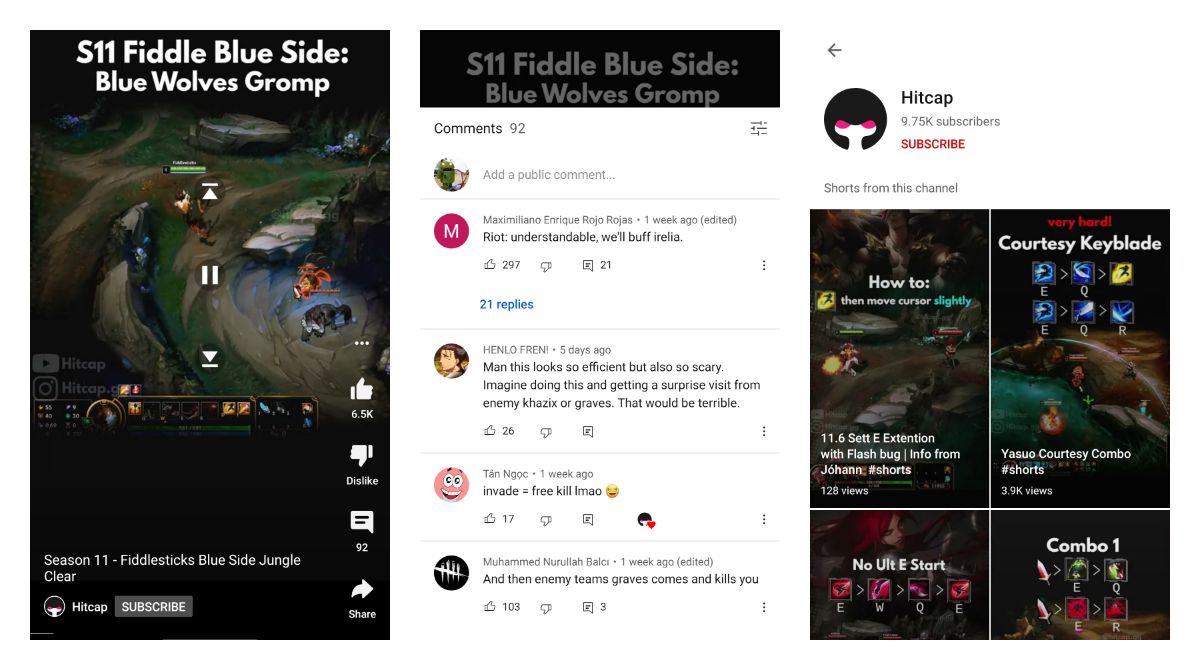 YouTube Shorts is a new feature inside YouTube that allows users to watch and share TikTok-like short vertical videos. The feature is only available in some countries. You don't need to be a YouTube beta tester In order to access it but you have to be located in the country where this feature was already rolled out.
YouTube Studio
If you are a YouTube creator, you may also need to download a YouTube Studio app that allows you to edit, post and analyse your content. This is a standalone app but it doesn't have a public beta available.
YouTube Go
Depending on your device type and model, you may also have access to a YouTube Go app which is the same official YouTube client app that comes in a lighter form. It takes less storage space and consumes less data as well.
Links and updates
If you want to catch up with latest news about YouTube and other Google apps, you will need to subscribe to our weekly newsletter with a full summary of different news and updates on these topics 📩
You can also find all recent YouTube features, news and updates that we've reported by navigation to the YouTube tag page 👇