Instagram
ICYMI: Instagram rolls out broadcast channels feature, rivalling Telegram channels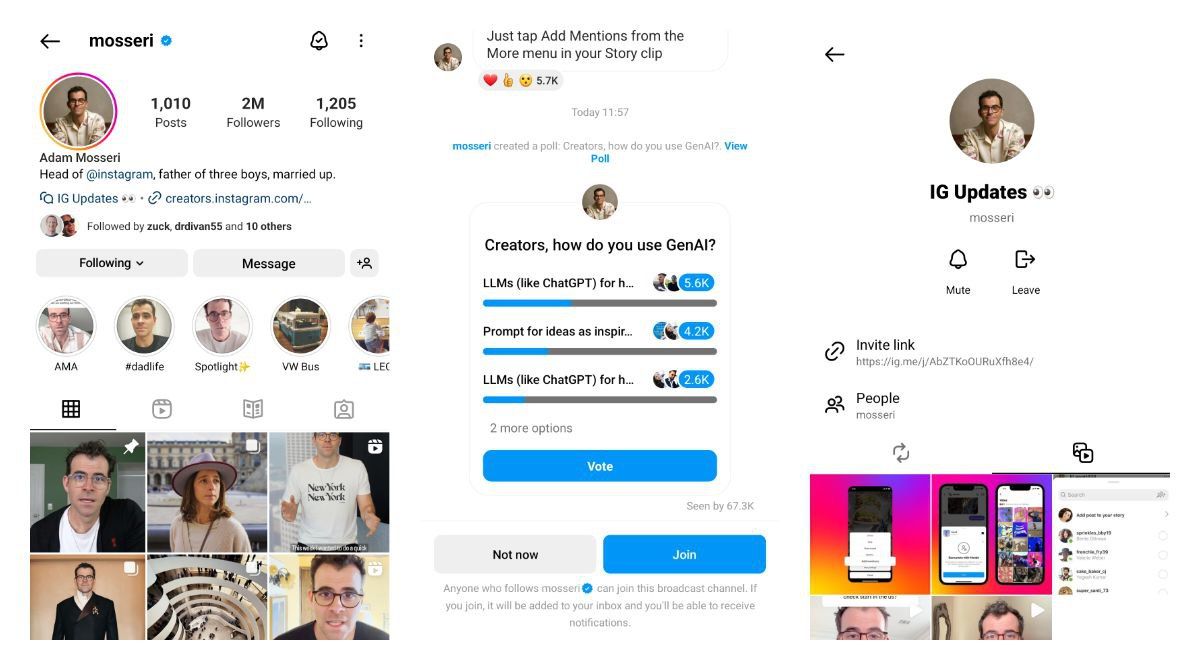 Instagram is currently working on a new feature called broadcast channels, which is strikingly similar to Telegram channels. The feature is being gradually introduced in certain regions, such as India, allowing users to create channels, and invite others to join and participate in existing channels, such as those curated by @Zuck and @Mosseri.
Trying the Broadcast Channels Feature
If you reside in a region where the broadcast channels feature has been rolled out, here's how you can access it:
Open the Instagram app and navigate to @Zuck's profile.
Look for the broadcast channels link in the profile section.
Tap on the link to join the channel. Remember that the functionality is being slowly introduced, and not all users may have access to channel creation just yet.
For those who are unable to access the feature, Instagram had provided a waitlist, though it is not accessible to everyone or everywhere.
Benefits for Bloggers and Content Creators
The broadcast channels feature is valuable for bloggers and Telegram channel owners who, in the past, relied on linking their Telegram channels to Instagram to provide users with text-format content. With this new feature, they can now do this natively within the Instagram app. It will be interesting to see whether this feature will result in any algorithmic improvements on Instagram for those using broadcast channels actively.
About Instagram
Instagram is a popular photo and video-sharing social media platform, globally recognized for its user-friendly interface and visually pleasing content. The platform offers various features, such as messaging, sharing stories, and Reels, to cater to a broad range of user preferences.
Even though broadcast channels are rolling out only in selected regions, you may benefit from becoming an Alpha tester of Instagram, in order to receive the newest updates and Android native features. Check more below 👇
Source of the News
The news about Instagram's broadcast channels feature comes from an official announcement on the Instagram blog.
Did you follow TestingCatalog on Instagram already? 📸