SwiftKey Keyboard
ICYMI: SwiftKey integrated Bing AI composer and tone checker, copying Edge browser feature on Android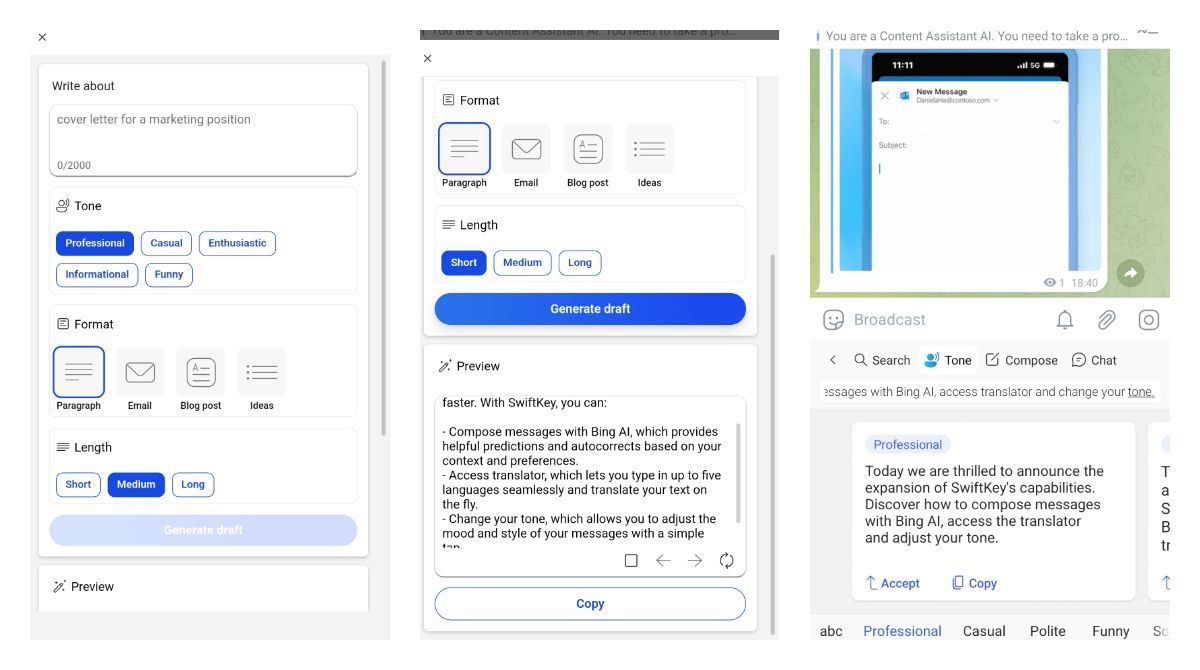 SwiftKey has rolled out Bing AI composer and Tone checker as new features on Android, imitating capabilities previously available on the Edge browser. These features provide users with AI-powered assistance in composing text and checking the tone of their content.
How to use Bing AI composer and Tone checker.
To access the Bing AI composer and Tone checker features on your SwiftKey keyboard, follow these steps:
Open the SwiftKey keyboard on your Android device.
Tap the Bing Chat icon on the top bar of the keyboard. This will expand additional options.
Select the Composer option to open a new widget that loads a webview with the composer. This functions the same as the Edge browser component.
In the composer, utilize the AI prompt to compose a blog post, paragraph, or reply. Once satisfied with the generated text, copy and paste it wherever needed.
Alternatively, choose the Tone checker option to analyze the tone of your text. You can then adjust the tone based on AI suggestions.
Who benefits from these features?
These new features are best suited for individuals who write content frequently or need assistance in ensuring their text is well-crafted and tonally appropriate. Bloggers, marketers, students, and professionals alike will find the AI composer and Tone checker invaluable tools for improving their written communication.
About SwiftKey Keyboard.
SwiftKey Keyboard is a popular third-party keyboard app for Android and iOS, boasting a wide array of features, including predictive typing, autocorrect, and custom themes. Owned by Microsoft, SwiftKey's mission is to improve the typing experience for users by leveraging artificial intelligence and personalized suggestions. The integration of Bing AI composer and Tone checker further demonstrates SwiftKey's commitment to delivering advanced functionality and enhanced user experience.
The news source.
The release of Bing AI composer and Tone checker on SwiftKey for Android was announced in a tweet from the official Bing Twitter account and on the Microsoft blog in addition.