Ghost, the popular open-source publishing platform, has introduced a new editor in beta. This editor comes packed with several exciting features, including an image editor, edition history, and a browser extension for curators to seamlessly add bookmarked pages to draft posts.
Accessing and Using the New Editor
To get started with the new features, follow the steps below:
Log in to your Ghost site's admin dashboard.
Navigate to the Labs page in Ghost Admin.
Turn on the beta version of the new Ghost editor.
Image Editing
The new image editing features inside Ghost, powered by Pintura, allow users to make adjustments to images right within the editor. To access the image editor, simply add an image or feature to a post, and click on the image edit button. With this feature, you can:
Rotate, flip, and crop images
Apply filters and effects
Finetune exposure, brightness, contrast, clarity, and more
Redact sensitive information with a blur tool
Add annotations such as arrows, lines, or text
Add a frame to the image
Upload stickers
Edition History
Post history can now be found in the settings menu of any post in the editor. Simply click on each revision to return to that version of the post. To revert to a previous version, click "Restore" to easily roll back any changes.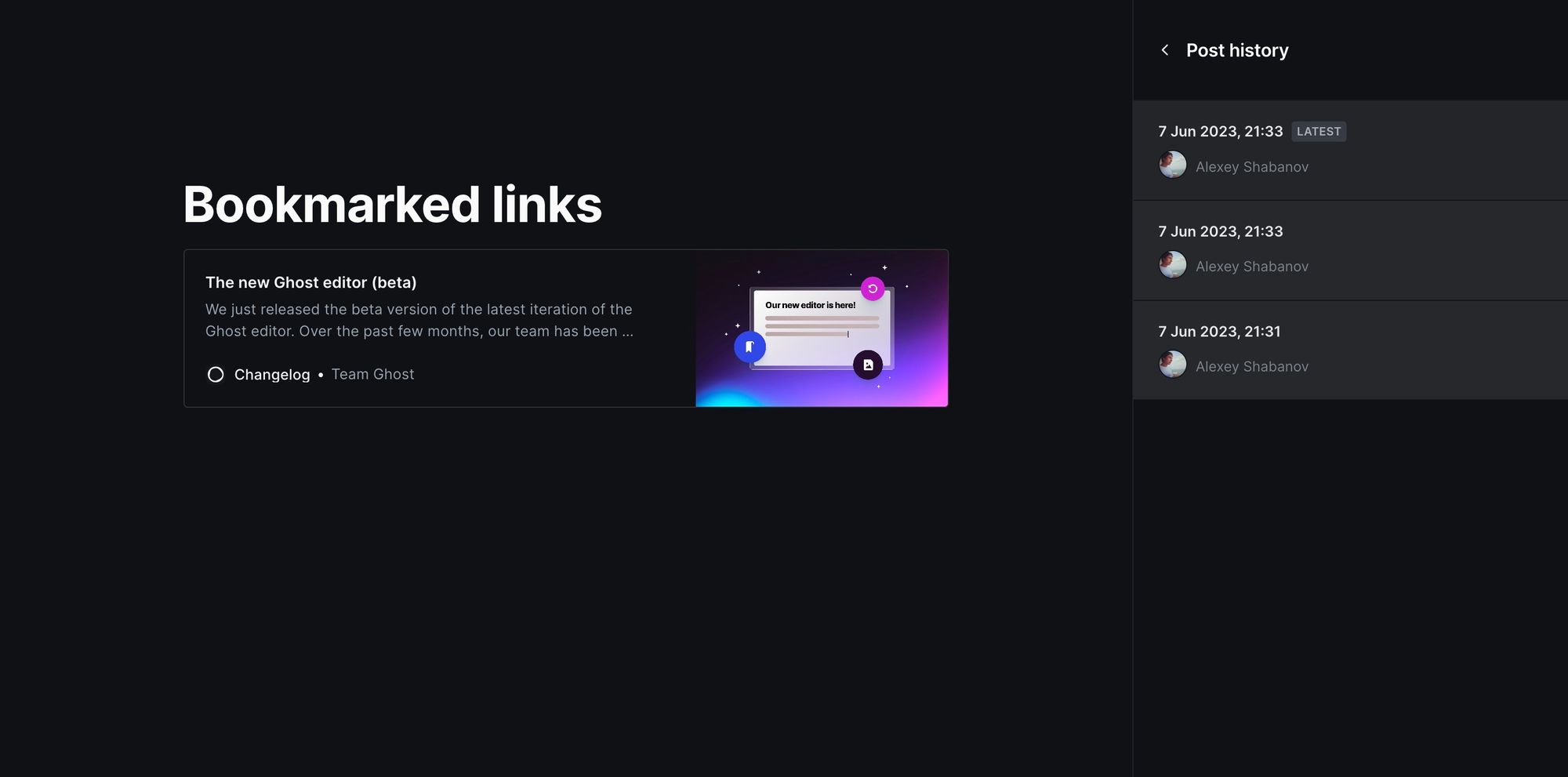 Ghost Bookmarker Extension for Chrome
Curating inspiration and reference points from the web is a fundamental part of the content creation process for many publishers. To help speed up this process, Ghost has introduced a new Chrome extension called the Ghost Bookmarker. With this extension installed, you can send links from anywhere on the web to a draft post in Ghost as a bookmark card, along with optional notes. Once the post is published, bookmarked links will automatically be added to a new draft.
About Ghost
Ghost is a versatile open-source publishing platform designed for professional publishing, used by many individuals and organizations. It aims to provide a clean, intuitive, and user-friendly experience for content creators while having powerful tools for managing and sharing posts.
Source: Ghost.org