Guides
How to enable TikTok PRO and get your profile analytics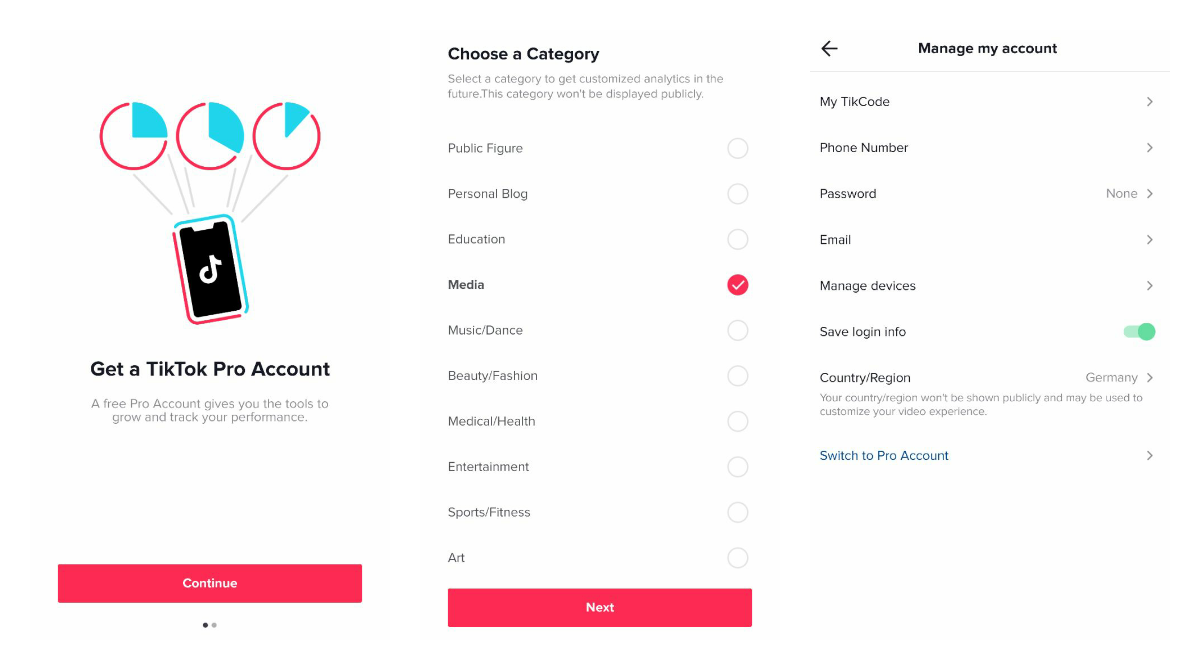 TikTok PRO and it's analytics is now available to everyone in the version 13.11.1 A newly released analytics page can become very handy to content creators, brands and media publishers 😎
I don't use TikTok very much but I definitely should. Did you jump on TikTok already? Regardless of your answer - give it a try!
How to enable TikTok PRO
Open "me" tap with you profile
Open settings
Press on "manage account"
Press on "switch to pro account"
Press "continue"
Choose a category from the list (Personal blog, Entertainment, etc.)
Confirm your phone number
After this you are done! Now you will be able to see a new "analytics" option in settings.
TikTok Analytics
TikTok analytics page has 3 tabs - Overview, Content and Followers.
The overview shows your progress on video views, followers and profile views for the past 7 or 28 days depending on the chosen filter. According to the displayed message, it is going to be updated once a day.
The content tab shows your recent posts for the past 7 days. Apart from that, you can also see a trending videos section. It is still not clear yet if will show your own trending videos (most likely) or trending videos in general (which will be quite handy). This tab also has a shortcut to "Create Post". The last tab about followers has information about the number of followers. Apart from that, it shows gender and location distribution across your followers.
If you will open an individual post from the content tab, you will see individual stats for each post. There are several interesting data points in there:
Total playtime - For how long did people watch your post in total.
Average playtime - For how long the average user watched the video.
Traffic source types - This one supposed to show how did your audience discover your post. I would assume that most traffic will come from TikTok itself for now but it will be interesting to see the real data.
Audience location distribution - Location data will be probably limited to "country" but that should be enough too.
The addition of this feature is a big step towards a fully-featured content distribution platform. TikTok definitely doesn't want to be just an app for teenagers. It already has all the necessary tools for advertisers and having a proper analytics feature is just a must-have. There is also a common assumption that deep analytics "kills" creativity because people just tend to look into numbers and copy what is working instead of creating their own stuff.
TikTok Beta
Apart from the PRO feature, TikTok also added a possibility to join a beta release track directly from the app. You need to go to the bottom section of your settings and press on "join testers" button. It will show you a screen with an explanation of the OPT-IN process. After that, you will be redirected to the web view page where you will need to login to your Google account. This is the same approach that we use in TestingCatalog Android app but in our case, you log in once to get access to 500+ different beta programs including TikTok. I think that they should be opening an intent to the browser instead.
If you are a TestingCatalog user you probably a beta tester already, but in case if not - here is the link to TikTok beta and you know what to do 😜
I am also quite happy that TokTok releases its features to everyone without A/B tests and you can just test them out right away. Will it last for long?
Links:
If you made it to the end - follow TestingCatalog on TikTok and share this post with your followers 🤳