Metamask
Metamask got an improved NFT tab with favourites and additional safety adjustments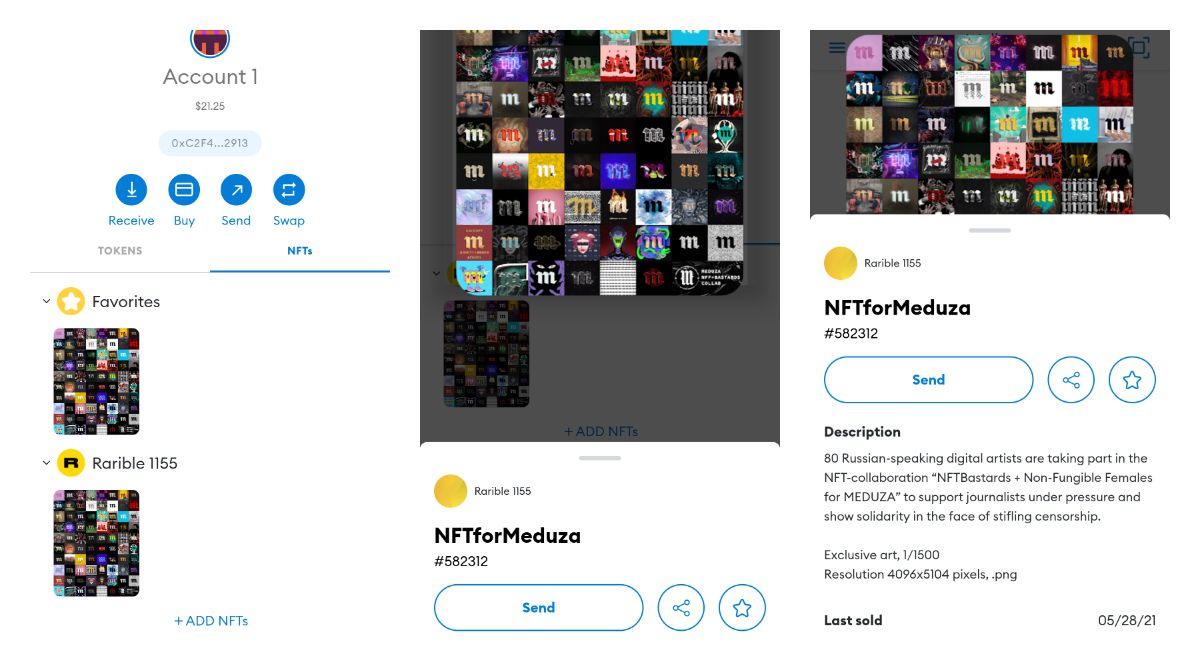 Metamsk is the most popular Etherium and NFT wallet out there. In the latest update to version 2.4.0, the previously named Collectibles tab got its name changed to NFT.
Besides the renaming, now it is easier to browse NFTs there because of a new grid layout. The NFT details view got updated as well. Now it shows an NFT in full size by default and all the details can be found in the expandable bottom slider.
This view also got Share and Favorite buttons that didn't exist before. After adding an NFT to favourites it will appear in a separate Favorites row on the NFT grid.
How to test:
Make sure you have an NFT on your Metamask wallet.
Tap on the NFT tab on its main view.
Select an NFT from the grid.
Swipe up on the bottom slider.
Tap on the Star icon to mark it as a favourite.
What's New?
Delightful NFT experience: We improved support for different types of NFTs. It is now easier to detect, add and view your NFTs.
Safer experience:
"Seedphrase" is now termed as "Secret Recovery Phrase"! This change is in English; translation to other languages is coming soon
You will see a warning if the address you are sending tokens to is an ENS name with confusable characters
More swaps! Along with some custom network UX improvements, you can now swap assets on Binance Smart Chain.
I bought an NFT yesterday on the Rarible platform just in time before this update and now I got a chance to test it out. Adding a link to the auction as a reference but probably it will be only meaningful to the Russian speaking audience.