Worldcoin, a project co-founded by OpenAI CEO Sam Altman, has made its mobile crypto wallet app, World App, available to users globally. Alongside the app release, Worldcoin has introduced a new NFT called "Introducing World App" which can be minted on the Zora platform. In this post, I'll share my personal experience with the app and provide an overview of its features and functionalities.
Discovering Worldcoin 🔥
I first learned about the Worldcoin wallet app after receiving a Farcaster invite, a crypto social app for web3. The "Introducing World App" NFT was trending among network users, sparking my curiosity about the app. After discovering that it was in beta, I decided to test the app, which proved to be an unusual but fascinating experience.
Getting started with the Worldcoin wallet app
Upon creating an account in the Worldcoin app, I was assigned a Polygon wallet. During the profile setup, I encountered a page requesting Orb identity verification. This process involves retina scanning to create a unique digital identity, connecting it to the user's wallet. However, this verification step is not mandatory, and users can still access the app without it.
Orb verification and its potential implications
Orb devices are currently only available in certain countries like the US and India. As I am based in Germany, I did not have access to an Orb. However, Worldcoin has announced plans to bring Orbs to Berlin between May and July and I hope it may appear at the Web3 Berlin conference on June 10-11 🤞 Some users speculate that this unique identity verification system could pave the way for AI-funded universal basic income opportunities in the future.
Minting the "Introducing World App" NFT
Without Orb verification, users can still mint the "Introducing World App" NFT for a limited time. The NFT can be minted on the Zora platform by anyone.
Exploring web3 courses
The app offers short lessons on topics like Ethereum and Bitcoin, rewarding users for their participation. This makes the Worldcoin wallet app an excellent starting point for those new to the crypto space.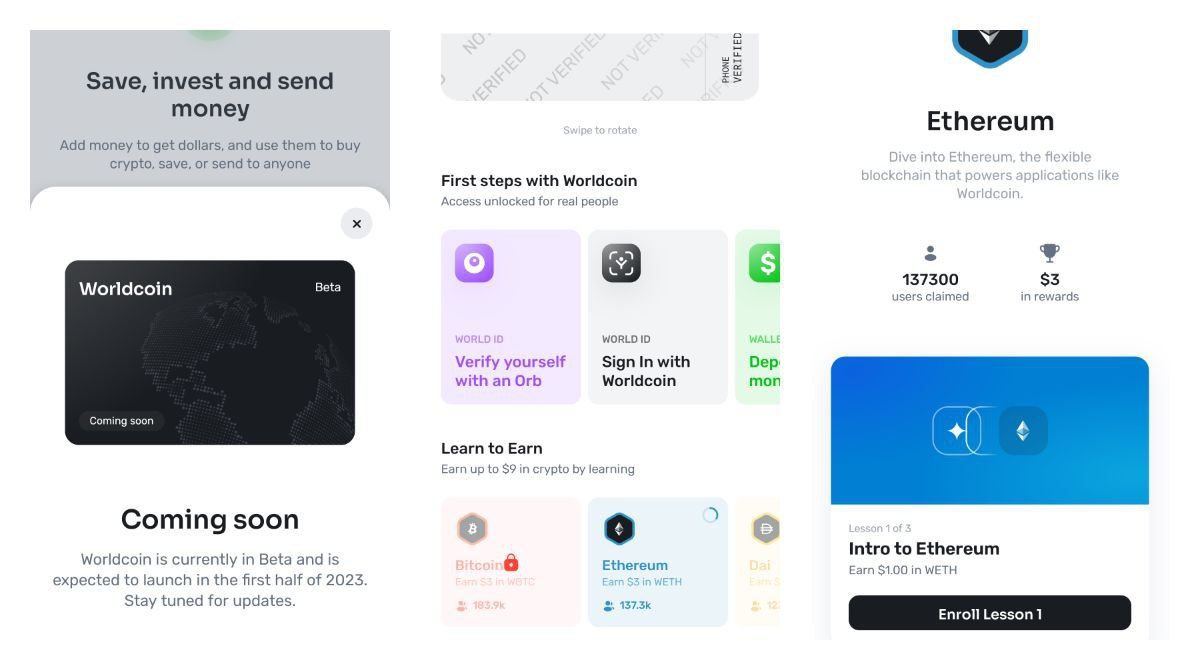 User experience and app functionality
The Worldcoin wallet app boasts an outstanding user experience, with smooth navigation and a visually appealing interface. It stands out as one of the best web3 apps currently available. Whether users will be willing to undergo Orb scanning for potential future utility remains a personal choice.
More about Worldcoin
Worldcoin aims to create a new financial system by combining digital identity and global finance. The project is planning to launch its own token, Worldcoin, later this year, which users in eligible countries will be able to claim on a weekly or monthly basis. Worldcoin is currently built on the Polygon blockchain with plans to expand its presence on the Ethereum network.
Worldcoin announced the global availability of its wallet app and the "Introducing World App" NFT on its official website and Twitter.