Google Meet is a Hangouts successor from Google that was announced after COVID19 pandemic made a spread around the world. Google Meet supposed to compete with Zoom that got much more popular in recent time when more and more people had to work from home.
Some users may notice a popup message in their Gmail apps that highlights Google Meet integration and its new features.
Attendance capabilities - You can have a video meeting with up to 100 people while in Hangouts the limit was 25
Live captions - Google Meet will automatically caption all conversations so you can simply read from the screen.
Screen share - You can share your screen and now it is very easy to do this from your mobile device as well.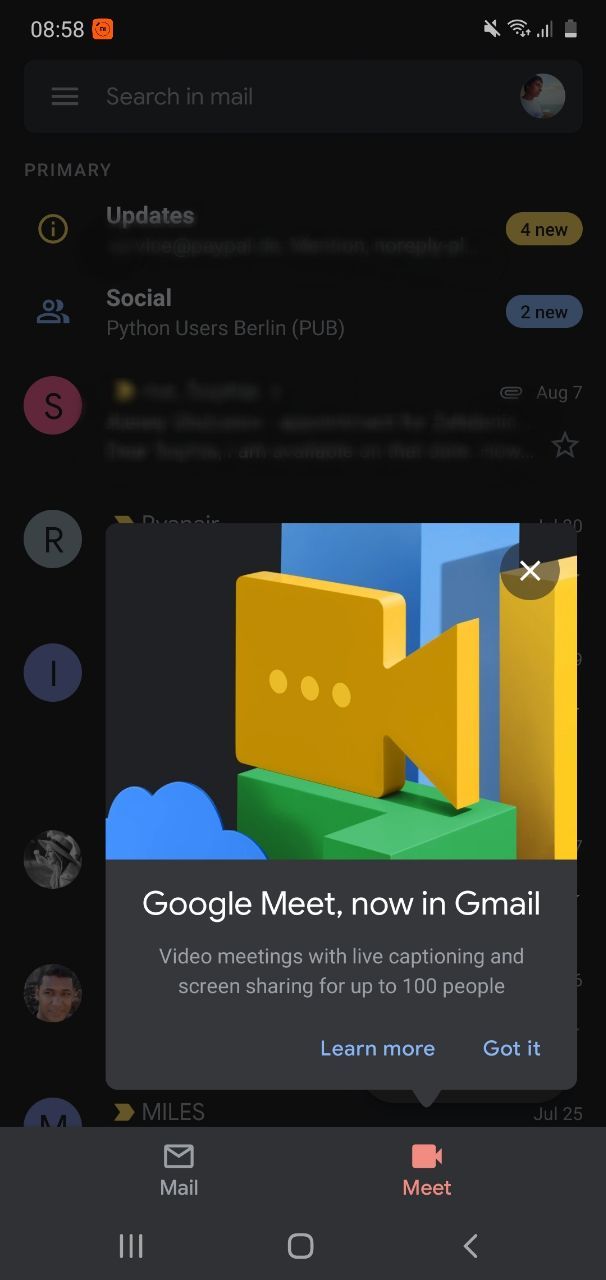 The UI part of the integration was met quite negative by the Android community. Gmail app got a new bottom navigation bar that has just two buttons - "Gmail" and "Google Meet". The UI of the Google Meet section is quite plane as well.
It is quite clear that Google is trying to rush this rollout and probably not just because they want to catch up on Zoom but also because they need more data and usage insights. They even have an additional option in settings to send more usage data to Google if you want to help them with this feature. By default, it is turned off.
Likely to us, there is an option in settings which you can use to disable this feature completely.
Open app drawer
Scroll down to Settings > open Settings
Select an account where you want to disable it
Scroll down to "Meet" section
Check out the tick box next to "Show me tab for video calling"
It is important to mention that this feature is not available on all accounts yet. I got it only on one account out of three where one was also attached to my Work Profile.
As if I would be in Google, I would suggest them to roll out this feature to Work Profiles first.
Would you keep Google Meet tab or disable immediately?