Since we introduced a search functionality in TestingCatalog app, we've got some insights about what testers are looking for.
It was not a surprise that most of the search requests were about different Google apps, starting from Google Play to YouTube and Gboard. I want to list all Google apps available for beta testing in this post and answer several frequently asked questions.
Update 24.08.2020: Google released a new AdMob app in early access mode that is available for beta testing. The beta program is full at this moment but it might become available in the future.
A complete list of all Google apps in beta for Android
Google AdMob (full)
Google Pay Tez Beta (India only)
Live Transcribe Unreleased (is over)
Voice Access Unreleased
Hire Unreleased
Playbook for Developers Beta
Google Play Services beta
The most popular question is "how to become a Google Play beta tester?" On the most modern devices, Google play is pre-installed as a system app, which means that you cannot just opt-in and download the beta version from the Google play. However, Google implemented another way of doing that. Apart from the normal apps, you can also install services. Those services can be used by other apps and it is exactly what Google play is doing.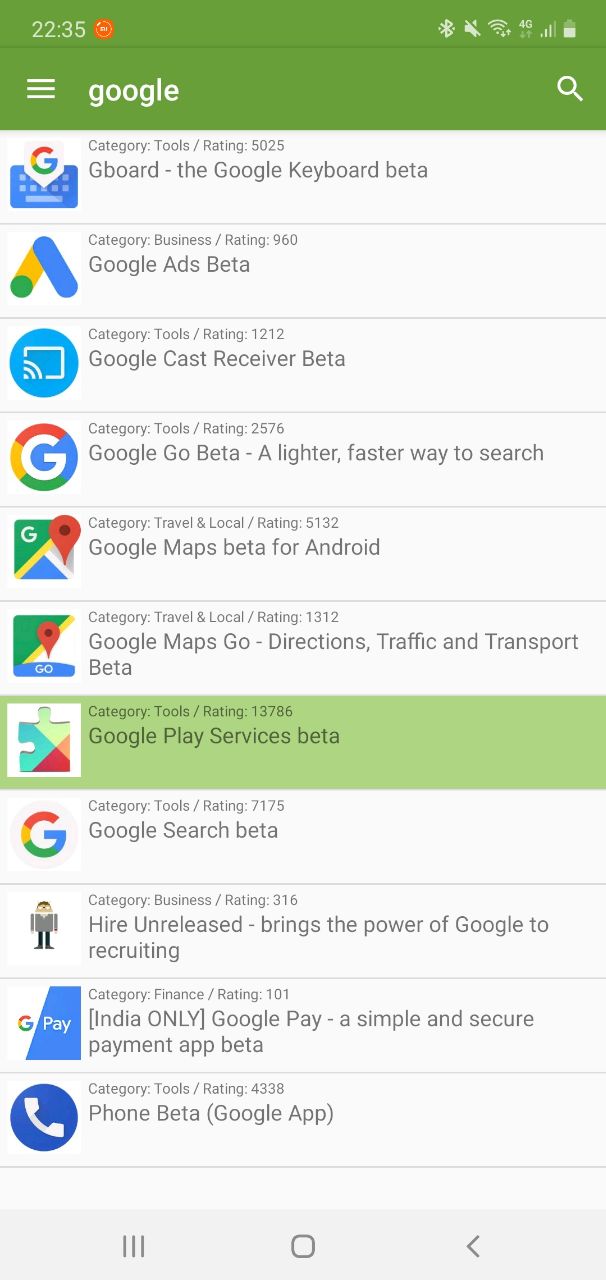 App description:
Google Play services are used to update Google apps and apps from Google Play. This component provides core functionality like authentication to your Google services, synchronized contacts, access to all the latest user privacy settings, and higher quality, lower-powered location-based services. Google Play services also enhances your app experience. It speeds up offline searches, provides more immersive maps, and improves gaming experiences. Apps may not work if you uninstall Google Play services.
So again, how to become a Google play beta tester? You need to join Google play services beta!
Open "Google Play beta form" link
Press "become a beta tester" button on the opt-in page
Install Google play services on the Google play
Enjoy new features!
It is also very important to mention that Google is rolling out their new features partially to the different segments of users. It might happen that you will receive a new functionality in the first wave or it is also possible that you will get new features at the same time they are released to the production.
Google Web View beta
As soon as we started with services, I would like to continue with another Google service which is used by many different apps. Google web view service allows other apps to open web pages in the web view. Facebook, Reddit, Twitter and many other popular apps are using service.
Becoming a beta tester for Google web view service will give you an access to the most recent features of the web view in all those apps. However, it also means that you will have to wait until app developers will use those new features in their apps.
What about changelogs? In opposite to the other Google apps, such as maps or search - Google web view service has frequent changelog updates which you can track directly on Google Play.
It used to have a Google plus community which was quite active and you were able to find a lot of interesting information there.
Google Chrome beta
Before we will move to the standard Google beta apps I would like to mention Google Chrome browser first. It is different from other Google apps because you don't need to opt-in to the beta version (and join any beta testing communities). Google Chrome beta is a standalone application and it can be installed along with the normal Google chrome app.
This works very similarly to how it works with the desktop browser. There are four several release channels and all of them serve the different purpose.
How do I choose which channel to use?
The release channels for chrome range from the most stable and tested (Stable channel) to completely untested and likely least stable (Canary channel). On Windows, Android, and Linux, you can run all channels alongside all others, as they do not share profiles with one another. On Mac, you can run the Canary channel builds alongside any other channel, as they do not share profiles with other channels. This allows you to play with our latest code, while still keeping a tested version of Chrome around.
Stable channel: This channel has gotten the full testing and blessing of the Chrome test team, and is the best bet to avoid crashes and other issues. It's updated roughly every two-three weeks for minor releases, and every 6 weeks for major releases.
Beta channel: If you are interested in seeing what's next, with minimal risk, Beta channel is the place to be. It's updated every week roughly, with major updates coming every six weeks, more than a month before the Stable channel will get them.
Dev channel: Want to see what's happening quickly, then you want the Dev channel. The Dev channel gets updated once or twice weekly, and it shows what we're working on right now. There's no lag between major versions, whatever code we've got, you will get. While this build does get tested, it is still subject to bugs, as we want people to see what's new as soon as possible.
Canary build: Canary builds are the bleeding edge. Released daily, this build has not been tested or used, it's released as soon as it's built. By default, it also reports crashes and usage statistics to Google (you can disable this on the download page).
Other builds: If you're absolutely crazy, you can download the latest working (and that's a very loose definition of working) build from download-chromium.appspot.com. You can also look for a more specific recent build by going to the Chromium continuous build waterfall, looking at the number near the top under "LKGR", and then going to this Google Storage bucket and downloading the corresponding build.
Note: Early access releases (Canary builds and Dev and Beta channels) will be only partly translated into languages other than English. Text related to new features may not get translated into all languages until the feature is released in the Stable channel.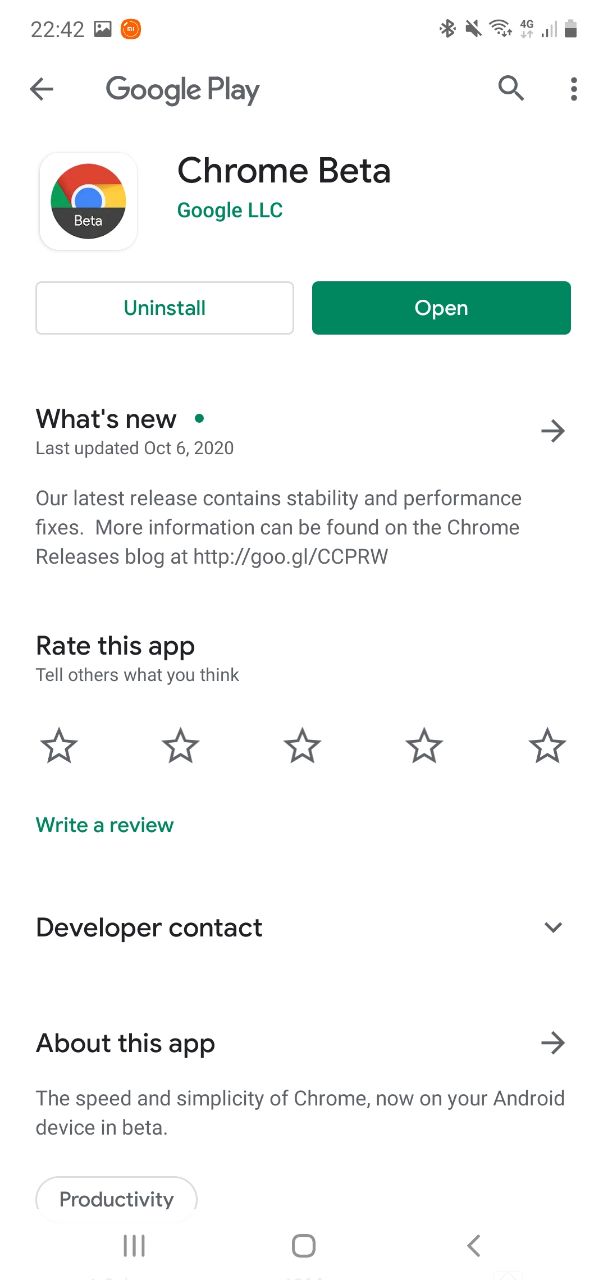 From my personal experience, I would like to say that sometimes it is very helpful to be able to have both apps installed at the same time. Chrome is a quite important app and it is not that good if it brakes in the critical moment.
Google Search beta
This app is a core of android GAPPs. Starting from the search itself and continue with the Google now, etc. Nothing special here. You can just opt-in and download the app. No beta testing community is available for Google search beta.
Google Maps beta
Same as with search, this app is very popular and used everywhere. Nothing special here. You can just OPT-IN and download the app. No beta testing community is available for Google search beta.
Google Maps Go beta
Google Maps Go, the lighter version of the original Google Maps app. Designed to run smoothly on devices with limited memory and on unreliable networks without compromising speed, to provide your location, real-time traffic updates, directions, and train, bus and city public transport information. You can even search and find information about millions of places, such as phone numbers and addresses. Nothing special here. You can just OPT-IN and download the app. No beta testing community is available for Google search beta.
Gboard beta
This app is a part of Android GO program, announced on the Google I/O 2017. It means that it is going to be supported on the budget devices. It is also known that this beta program is limited by a number of testers and the threshold can be reached at any time.
YouTube GO beta
Another Android GO app is a special YouTube client which is supported on the limited list of devices. The normal YouTube app doesn't have a beta version now.
Google Cast Receiver beta
This app has a Google plus community where you can get the most of your questions answered. If you have a cast receiver it might be helpful for you to join.
Playbook for Developers beta
For Playbook for Developers you can OPT-IN directly on Google Play. This is a simple app with a useful information for Android devs and product managers.
App description:
Learn about the latest Android features, best practices, and strategies to succeed on Google Play. Discover insights to help you develop and launch your app, engage and grow your audience, and earn more revenue on Google Play. Explore the in-depth guide to Google's developer products, and choose interests to get curated posts and videos both from Google and across the industry.
With the latest update, we have simplified the user experience, improved content discovery, and automated notifications for different types of content (which are customizable) to help you stay up to date, among other improvements. We're always looking to improve our products, including making them more accessible. Please email playbookfeedback@google.com with any comments.
Files Go beta
Files Go Beta is a NEW beta app from Google which was released recently. What is this app about? First of all, it is a GO app. As it was announced on the Google I/O 17, those apps are optimized for the low-end devices. Secondly, this app solves one of the most painful problems for such devices - storage cleaning. I recently heard from the Google Chrome Dev conference about the research which Google did and according to that - people with low-end devices spend tons of their time by cleaning their devices to free up some space. There are a lot of apps in the play store with the same feature set. The difference of this app supposes to be in optimization for the low-end devices.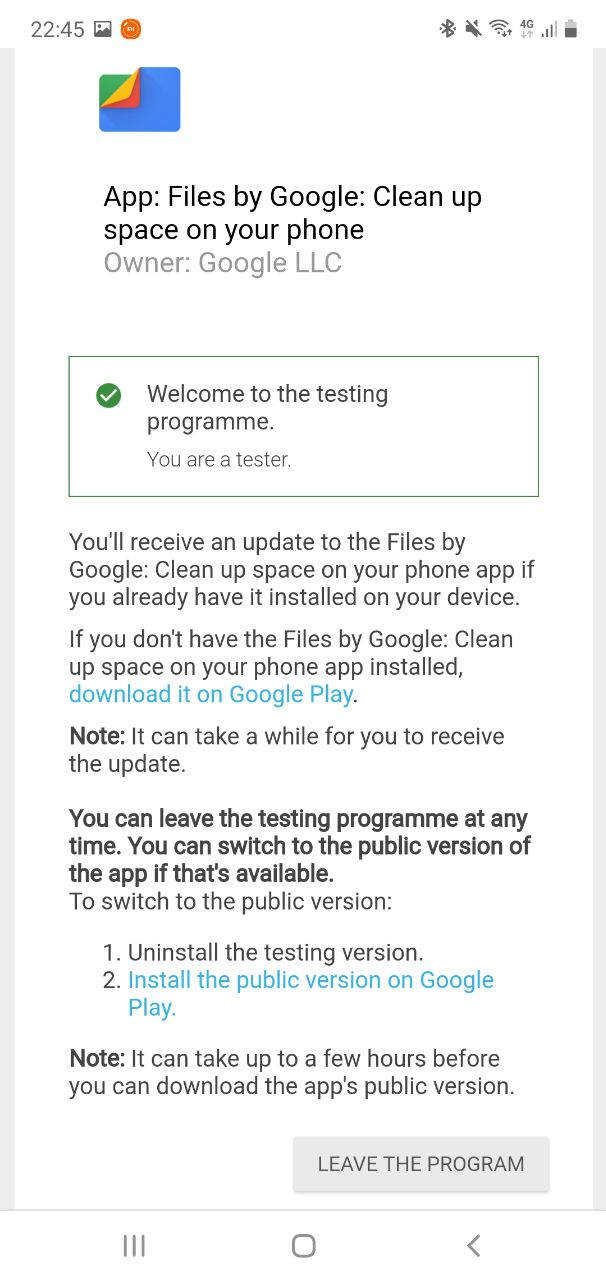 Features?
Material design! Not a real feature but a good UX
Storage space overview
Cleaning suggestion cards. This is a very nice example of good UX. The app guides you to do things and it gives you an ability to adjust what you are doing
Files sharing. It turns your Bluetooth on automatically.
Files browsing. A quite simple browser with sorting and thumbnails mode.
Phone beta
A phone app from Google devices was enrolled in the beta at the beginning of 2018. Now everyone can experience a Google Phone app on his phone. It also requires Android 6+.
App description:
Update the Phone app for your Android 6.0 (Marshmallow) or newer device to improve your calling experience and gain control over calls with features like Google Duo video calling, spam protection and caller ID.
Google Go beta
App description:
Google Go is a lighter, faster way to search, with search results optimised to save up to 40% data.
Get answers quickly and reliably with Google Go, even on slow connections and smartphones with low space. At 5MB in size, it's fast to download and saves space on your phone.
Type less, discover more. Save time by tapping your way through trending queries and topics, or by using your voice to say what you're looking for.
Google Ads beta
App description:
The Google Ads app helps you stay connected with your ad campaigns from anywhere, using your Android smartphone. You can easily view your ads' performance on the go with this simplified companion to your desktop account. So you'll keep your campaigns running smoothly - no matter where your business takes you.
Google AdMob
App description:
Google AdMob makes it easy to earn revenue from your apps, with in-app ads. And now you can keep AdMob at your fingertips.
Use AdMob mobile to quickly access important user and performance metrics - all from your mobile phone. With AdMob mobile, you can:
● See how your apps are performing
● Get user insights and trends in revenue
● Check your earnings and payments
● And more...
Google Pay Tez Beta (India only)
Google Pay Tez is an Indian version of Google Pay which is not available anywhere else. At the same time, global version of Google Pay doesn't have an open beta release track.
App description:
Make UPI transfers or do mobile recharges, bills and payments to businesses with Google Pay, a simple and secure payments app by Google.

Join crores of Indians who are using Google Pay for all their payment needs. Refer friends, get the latest offers and earn rewards as you pay.
Live Transcribe (beta program is over)
Live Transcribe is no longer available as beta but you can always find a stable app on Google Play.
App description:
Live Transcribe is a new accessibility service built by Google for the deaf and hard of hearing. Using Google's state-of-the-art automatic speech recognition technology, Live Transcribe performs real-time transcription of speech to text on your screen, so you can participate in conversations going on in the world around you. You can also keep the conversation going by typing your response on the screen.
Voice Access unreleased
For Voice Access beta you can OPT-IN directly on Google Play.
App description:
Voice Access is an accessibility service that helps users who have difficulty manipulating a touch screen (e.g. due to paralysis, tremor, or temporary injury) use their Android devices by voice.
Hire unreleased
Hire was an experimental project and there is a high chance that it will be discontinued. Beta OPT-IN on Google Play is still available but most probably it will require a direct communication with in order to make it work.
App description:
Hire is an easy-to-use recruiting application that helps small to medium organizations to distribute jobs, identify and attract candidates, build strong relationships, and efficiently manage the interview process – using the familiar Google solutions such as Google Search, Gmail, Calendar, Docs, Sheets and Hangouts.
YouTube beta
App description:
The YouTube app for Android on the other side keeps most of the core features available on the desktop site, like, for example, uploading videos and editing them beforehand. You can also see what are the trending videos in the world right at this moment, or in your country - from music videos to vlogs, entertainment, gaming, news, how to guides, and many more right from the home page of the app. Subscribe to the channels you love the most, create your own playlists, manage them, switch between a number of accounts, share your favorite clips with your family and friends, control what is playing on your YouTube enabled TV, or other casting tech, and do a lot more stuff from your phone, or tablet.
What else can you do in TestingCatalog with google apps in beta?
If you are new in beta testing, check our guide on How to join any Android app in beta.
Any comments are welcome! Stay tuned with our weekly email digest about new Android apps and features! 🔥
Happy Testing!