Google Play
How to share Android apps and updates via Google Play and Nearby Share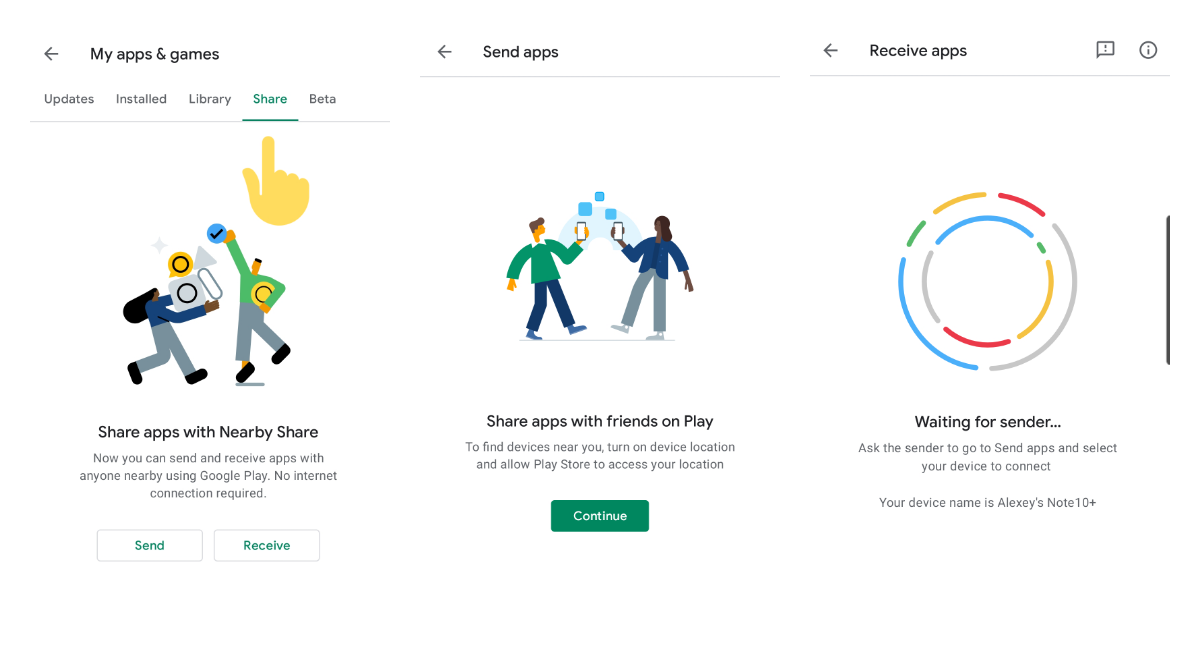 Google Play now allows you to share apps through nearby share. The feature should become available to all users soon. To have it available, you would need to have Google Play updated to a version 24+.
This functionality appears in the "your apps and games" section as a separate tab. There you can choose to be a sender or a receiver. Sending option will bring you to an apps list screen with a multi-select. Both sender and receiver have to get close to each other to be able to make a transfer. The process requires location permission for that as well. After transferring APK files, the receiver will be prompted to install them on his device. In this way, it is also possible to share app updates.
How to share Android apps with nearby share?
Get close to each other
Open navigation drawer with the hamburger menu icon
Select My apps & games item
Swipe left or click on the Share tab
As a sender: Press the Send button
As a sender: Select apps and games from the list that you want to share
As a sender: Tap on the Send triangle icon on the top right
As a sender: Wait for receiver
As a receiver: Press the Receive button
As a sender: Select the device from the devices list
Both: Compare the 4 digits code
As a receiver: Press on the receive button on the dialogue window.
After the transfer, the receiver will be able to install all the received apps and they will also become visible in the "received" list. It also seems that you can only share apps that were installed via Google Play itself so it won't work for side-loaded APKs.
Interesting to point out that this feature got release almost exactly after Shareit app got banned in US while it also was claimed as vulnerable by security researches. Shareit app was used commonly to share files and APKs between devices and it has more than 1 billion installs on Google Play.
Was it a coincidence or a strategic and timed move by Google?