In case you missed it - this newsletter is now issued monthly and it has a new name. So, ICYMI in January, lots of big companies are looking into the NFT trend and working on new features that would connect web2 with the upcoming web3 world. Not surprisingly, Twitter came first and now, Twitter Blue subscribers can now set their NFT profile pictures on iOS. These avatars have a hexagonal shape and can be viewed on any client including Android.
Reddit is looking into a similar feature, rumors say that YouTube may get something eventually too. And of course, Instagram is working on a potential collection gallery for your NFTs. If 2021 was a year of voice chats, this time we will watch NFT profile pictures being integrated all around.
If you are interested in Telegram, it turns out their former TON project got picked up by TON Foundation and is getting ready to kick off. And there will be NFT projects as well! At this point I am curious either Telegram will integrate only with TON or with other blockchains as well.
On another side, a new era of browser wars is coming. Web3 requires you to have your crypto wallet ready and connecting web apps to your standalone crypto wallet on Android is not working very well every time. This is where crypto-friendly browsers like Brave and Opera are shining but at the same time, most crypto wallets have their internal web browsers as well. So, let's see if we will get a crypto wallet feature on Chrome, Firefox or Edge this year.
And yes, web3 is huge and there will be a lot of stuff to test and explore. If you don't want to miss it - scroll down to read about future plans for the TestingCatalog project.
P.S. And don't miss a new Early Access section that you check below too.
What's new?
📲 Users can now browse NFT profile pictures on Twitter for Android
📲 Opera released a dedicated Crypto Browser in beta
📲 Telegram got post reactions and spoiler protection in its latest beta 8.4
See more details below 👇
---
Top features to test this week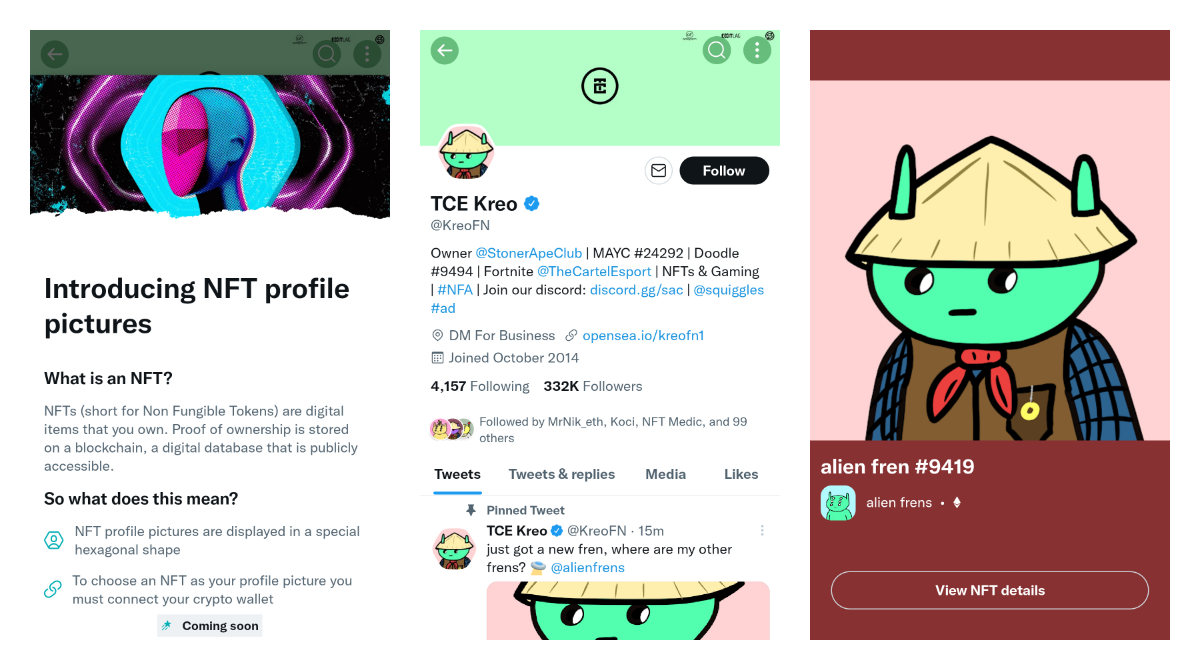 While browsing some of the Twitter profiles, especially in an NFT space, you may notice a pop-up introducing a new NFT PFPs feature. These profiles have a hexagonal shape and opening them will redirect you to a new details page. This details page will have information about an NFT itself along with a collection description and a link to its page on OpenSea.
A possibility of setting NFTs as profile pictures are only available to Twitter Blue subscribers (which is iOS only and limited to certain countries including the US, Canada and Australia).
Opera is known to launch specifically focused versions of its browser (like Opera GX for example) and now, despite having a crypto wallet in its base version, users can test a new Crypto Browser.
It is available in Early Access mode on Google Play and has only 5k installs so far.
The main difference from the generic version is that you will see a crypto-focused news feed on your home page and the crypto wallet will be much more accessible from a dedicated wallet tab.
It is a long-awaited feature for all channel admins especially since native comments were introduced. The native comment didn't work well with bots that had reaction functionality so many channels had to decide between native comments and reactions. Now, native reactions are here and they can be turned on and off per every channel. By default, this setting is set to off so you will have to head towards channel settings first.
Early Access
📲 Moxy club, a play to earn platform opened an early signup form offering and NFT to the first 10k applicants and access to the Moxy token pre-sale before the IDO
📲 Heads up for web3.0 devs. You can claim a Silver Early Access token for Thirdweb project for free. That's a platform for building smart contracts and NFT projects.
📲 INRIFT opened an Early Access sign up for its NFT drop with 3d wearables for the metaverse. Works on a FLOW blockchain.
📲 It turns out that Rarible already has an Android app. Only 50k installs so far and not very stable yet.
📲 A new NFT marketplace for photographers by Associated Press.
📲 A new upcoming decentralised store called Operator.
📲 coNFT has a whitelist open for its upcoming NFT Marketplace dedicated to metaverses.
📲 Moni is a new invite-only crypto portfolio tracker with free analytics. This app has only 5k installs on Google Play so far and you would need to get an invite in order to bypass a waitlist.
📲 Proptee app will use NFTs to co-own real estate properties. An interesting part of the service is that it aims to use NFTs to prove ownership of a part of the property.
📲 GEM xyz is now available in beta, allowing you to buy NFTs in batches across multiple marketplaces. Also aims to save on gas fees when buying multiple assets at a time.
📲 Soma finance opened a whitelist for early access to its upcoming platform for trading crypto and NFTs as well as $SOMA token sale.
📲 Superlocal opened a whitelist for its airdrop of $LOCAL tokens and NFTs. Superlocal is a Foursquare-like social network built for web3.0.
DAPPs & NFTs
B - Brave
🔥 ICYMI: You can test a new crypto wallet on Brave browser for Android
🔥 Brave is testing Brave News in its nightly build for Android
C - Coinbase
🔥 ICYMI: Coinbase opened a waitlist for early access to its NFT platform
M - Metamask
🔥 Metamask released a developer-focused Flask build for its Chrome extension
O - Opensea
🔥 Opensea got NFT page redesign and the ability to search by properties on Android
O - Opera
🔥 Opera got support for Nervos Network in its beta build for Android
🔥 Opera beta added Solana support to its crypto wallet
R - Rarible
🔥 Rarible now allows lazy minting from its mobile app
🔥 Rarible now supports the creation of custom collections on Tezos
R - Reddit
🔥 ICYMI: You can add social links to your Reddit profile on Android
Reddit's Experimenting with NFT Profile Pictures, Leaning into Audience Trends
T - Twitter
🔥 Twitter is experimenting with holders only NFT communities
🔥 ICYMI: Twitter released Spaces recording and playback features to everyone on Android
Twitter Tests New Options to Restrict Spaces Access to Smaller Groups
Twitter Tests New Topics Bar Above the Main Timeline to Highlight Relevant Discussions
Twitter Experiments With Limited Access Spaces
Twitter Tests New Placement for the Tweet Composer to Encourage More Activity
Twitter Adds Spaces Replay Stats for Recorded Broadcasts
Twitter Launches Live Test of Full-Screen, Visual Tweet Reactions
Twitter wants to make text in images accessible for its users by testing an optical character recognition feature And also working on labelling automated accounts
Twitter Leak Reveals That The Platform Is Adding The Ability To Look Up Messages For The Convenience Of Its Users
Twitter is testing a new search bar in the Home tab with select iOS users
Twitter's New Flock Feature Lets You Tweet to Select Followers
Other DAPPs
🔥 CoinMarketCap is testing a live chat feature on selected coins
🔥 CoinGecko got a new look and an easy way to manage your crypto portfolio
🔥 CoinGecko got new Category descriptions explaining what they are about
🔥 ICYMI: Binance renamed Pool Wallets into Funding and added new 2022 boxes
🔥 KuCoin for Android now shows trends for New Listings and more
🔥 KuCoin made isolated margin trading available on Android in beta
🔥 MEW wallet got a separate browser history per blockchain, improved QR scanner and more
🔥 TronLink Pro wallet got UI redesign and easier ways to manage your Tron wallets
Guides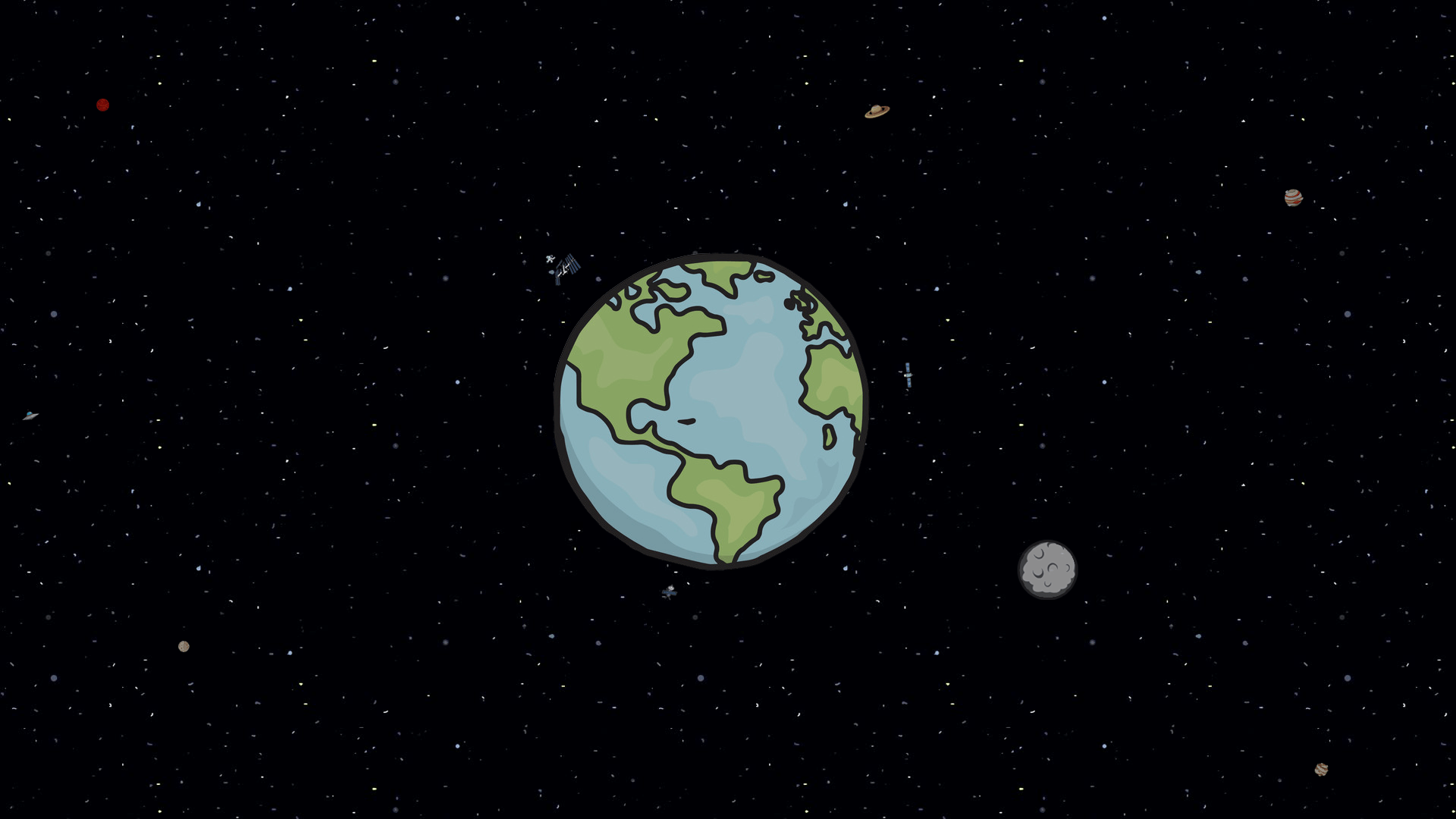 There are several reasons for me to share this experience as NFTs are still new to many and also that they bring early access by themselves to some extra perks. Depending on the NFT project, you can get access to some software tools or even to the mobile app if it is a part of the project roadmap.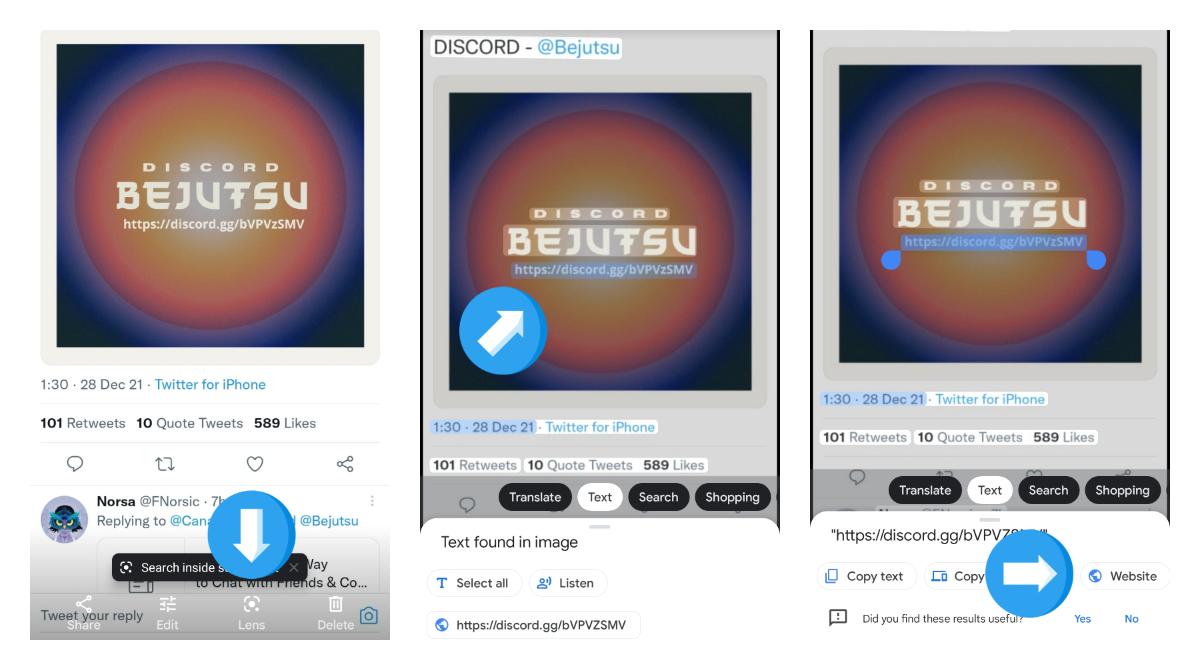 Loads of drops on Twitter are coming as an image whether it is an invite link or a promo code. Loads of people complain that it's unfair for mobile users as it is harder to type faster from mobile because you have to switch back and force.
I think that in fact, it is the opposite. Mobile users have Google Photos and Google Lens apps that can make this process much faster. If you have these apps installed, all you need to do is to know how to take screenshots.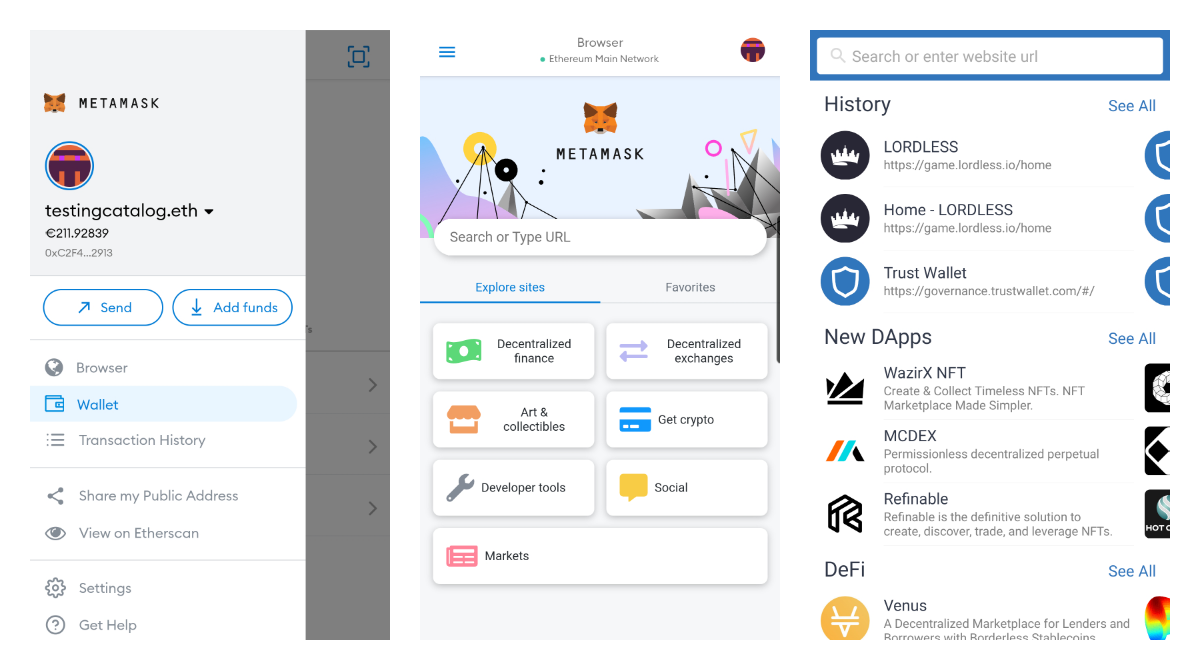 Most web DAPPS require your crypto wallet to be connected. At the same time, not all of them are mobile-friendly and sometimes the choice of options that are available for connection is limited. For example, Wallet Connect that most websites have doesn't work smoothly all the time and messing with QR codes isn't a very pleasant experience either. To my experience, if you use Trust Wallet, sometimes it works a bit better but still not with 100% of the DAPPS.
Android Apps
C - Chrome
🔥 Chrome beta 98 for Android comes with animated emoji screenshots and a new privacy guide
C - Clubhouse
🔥 Clubhouse added replays and clip sharing shortcut on Android
🔥 Clubhouse beta got a new way to share rooms and replays
D - Digital Wellbeing
Google readying Digital Wellbeing widget to show your screen time and most used apps
F - Facebook Business Suite
🔥 Facebook Business now allows managing tasks for you and your marketing team on Android
F - Firefox
Firefox Focus gets a privacy boost with Mozilla's Total Cookie Protection
🔥 ICYMI: Firefox got personalized homepage showing recent tabs, search results and more
G - Google Keep
🔥 Google Keep can be integrated with Google Assistant for more users
G - Google Messages
Google Messages prepares setting to disable pinch to zoom text size
G - Google Phone
Verified Calls on the Google Phone app now available in Germany
G - Google Photos
Google Photos seemingly removes the option to separate video backup over cellular from photo
You can disable grid autoplay in Google Photos for Android
G - Google Play
Latest Google Play Services and Play Store updates bring several improvements to your Android device
G - Google Search
Google tests gorgeous redesign of Search's image viewer with color theming
I - Instagram
🔥 Instagram released profile statuses to more users
Instagram is testing two new features, turning any video into a boomerang and the ability to change the audience of posts shared to Facebook
Instagram will once again let you sort your feed by what's new
Liking Stories seems to be the latest feature that Instagram is working on
Instagram Turns on IG Live Badges by Default for Eligible Creators
Instagram is working on a new feature that will let you edit your profile grid
Instagram starts testing new subscription features in the US
Instagram Expands Video Remix Option to All Videos, Not Just Reels Clips
A New Instagram Update Adds More Features And Accessories To Avatars
Instagram May Allow Verified Business Accounts To Restrict Other Individuals From Viewing Their Followers & Following
Instagram is testing out a new feature which would enable users to see mentions in their stories
Instagram Increases Response Options in Stories Polls, Facilitating Expanded Engagement
Instagram Adds Scheduled Live Display on User Profiles to Improve Discovery of Upcoming Streams
P - Pinterest
🔥 ICYMI: Pinterest expanded its TikTok style feed to more users on Android
Pinterest Adds 'Profiles' Tab to Search Results to Better Highlight Pin Creators
S - Snapchat
🔥 ICYMI: Now you can reply and react to messages on Snapchat for Android
Snapchat Adds 'Catalog-Powered Shopping Lenses' to Simplify AR Product Displays
S - Spotify
🔥 Spotify released show&podcast ratings to more users on Android
S - Strava
🔥 ICYMI: Strava released Personal Heatmaps and new privacy settings
T - Telegram
🔥 Telegram got post reactions and spoiler protection in its latest beta 8.4
T - Telegram X
🔥 Telegram X beta got a detailed Devices section and support for native ad messages
T - TikTok
🔥 TikTok released Reposts that will be shown to your followers
TikTok's Testing a New Option to Invite Your Connections in Other Apps to View Your Clips, and Follow Your Profile
TikTok and its competitor app Instagram are giving their users handy updates and features in the apps
TikTok is testing two new features, Noise Reducer and Video Links In Descriptions
TikTok Is Adding The Ability To Share Videos With Other Individuals To The Platform
TikTok is working on some exciting features including avatars, live audio streams and many more
W - WhatsApp
WhatsApp is working on filtering businesses nearby
WhatsApp is working on a revamped Contact Info page
WhatsApp Spotted Testing New Upload Media as Status Update Feature
WhatsApp is introducing profile photos in notifications
WhatsApp rolls out new search filters on Android and iOS
WhatsApp will soon let you play voice notes in the background
WhatsApp Community Home will give you greater control over groups
WhatsApp in-app chat support makes a quiet return
WhatsApp may soon add new drawing tools for images and videos
WhatsApp is working on wallpapers for voice calls
WhatsApp lets you pause and resume voice recordings
WhatsApp is rolling out animating heart emojis
Y - YouTube
YouTube Tests Custom Messages for Super Thanks, New Channel Subscriber Data Options
YouTube has come up with some new features for its TV app and they are great
YouTube app testing 'Smart downloads' for videos, just like YT Music
YouTube may soon let you play individual video chapters on loop
YouTube's latest beta test brings one of its best Music-exclusive features to the main Android app
Other apps
🔥 PayPal app got a complete revise on Android along with better QR code payments
🔥 Mi Fit beta got a new home screen design on Android
Get the latest ShareMe app with V3.15.10
Major payments app WeChat to add support for China's digital yuan
Samsung Game Launcher updated on version 6.0.04.4
Games
Torchlight Infinite hands-on: Beating Diablo Immortal to the punch
There's a new Leisure Suit Larry game on Android, and the series is just as filthy as ever
El Hijo - A Wild West Tale is a gorgeous stealth puzzle game now available on Android
El Hijo - A Wild West Tale is a gorgeous stealth puzzle game now available on Android
Deemo II finally lands on Android after two years — and it wasn't worth the wait
PUBG: New State's January patch lands with a new Extreme mode, kicking off the first season
Square Enix just released Chocobo GP on Android, free and with no annoying IAPs
TestingCatalog project
I am slowly preparing a whitepaper to be shared with the community. There you will find a proposal for TC community members and future contributors. A discord server and governance concept are included.
If you know what is DAO then you are prepared. If not, I will be publishing a bunch of educational guides very soon as well. TestingCatalog is and will continue to be built in public - read more on Telegram.
Happy testing!