Greetings testers!
Welcome a NEW TestingCatalog summary format!
Now it is a TRUE changelog that you should be seeing instead of "bug fixes and performance improvements" on Google Play.
All updates are sorted in alphabetical order in a Niagara Launcher style so you can skim it even easier than before 🔥
What's New?
📲 But what were we testing this week? I highlighted a Google Play release of Nova Launcher 7 that everybody can try already. Even if you are happy with your current launcher is worth looking at.
📲 Secondly, now you have a chance to get early access to the Email Protection feature by DuckDuckGo and it is also a chance to get a @duck.com email address.
📲 And last, but not least, Google Play seems to be testing a possibility to allow you to install apps to other devices via its Android app. If you have a farm of test devices it may become a handy feature to use.
---
Top features to try
Update Highlights:
Now you can have a weather badge visible on the search bar and you can customize it after the initial installation (or via settings later)
During the initial installation, you can select to display different search sources like Google or DuckDuckGo. Apart from this, you can also select to have a Google Play option over there so your search query will be passed over there.
Now your work apps will appear in the dedicated tab as they should.
Now you can assign custom swipe down gestures to your app icons. To do this, you need to hold on to the icon and tap on the edit button.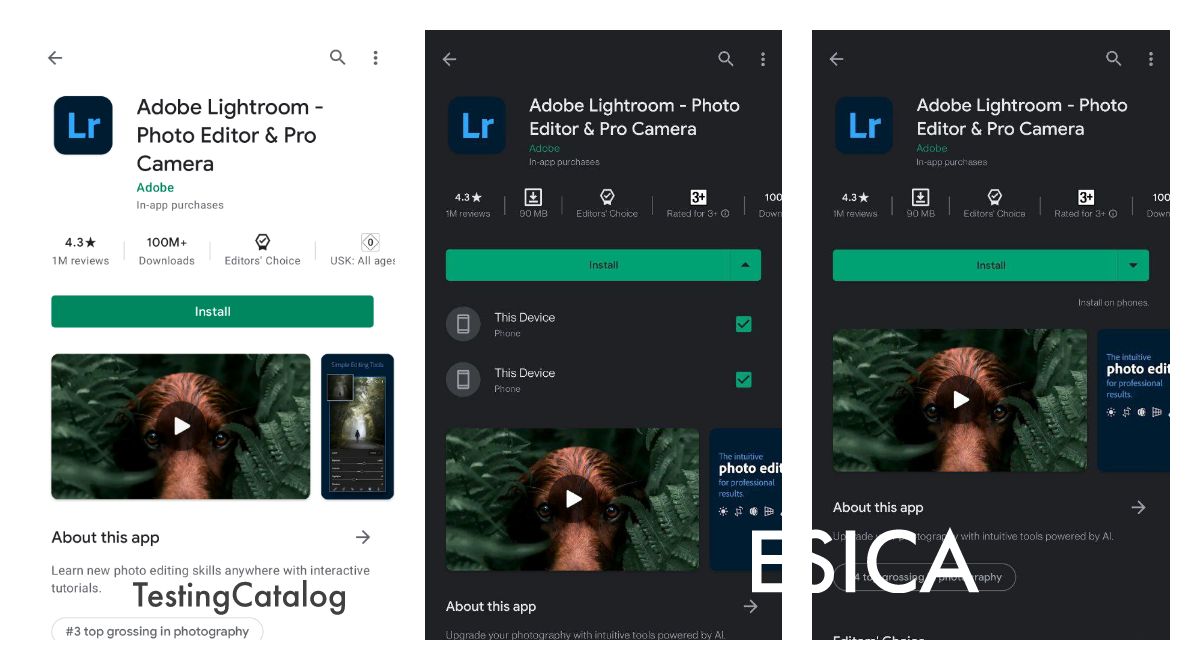 As it was reported by @lion60 to the ESICA channel, Google seemed to test a new dropdown on the install button in India. There you can select your other devices or install the app on both at the same time.
How to get the @duck.com email address?
Open your DuckDuckGo browser.
Tap on Settings.
Scroll down to the Privacy section.
Tap on the Email Protection option.
Tap on the Join the Private Waitlist.
A - Android Auto
A - Apple Music
C - Chrome
C - Clubhouse
D - Digital Wellbeing
D - Dropbox
F - Facebook
F - Facebook Business Suite
G - Google Maps
G - Google Search
I - Instagram
M - Messenger
R - Reddit
S - Signal
S - Snapchat
T - Twitch
T - Twitter
W - Waze
W - WhatsApp
Y - YouTube
Y - YouTube Music
Games
Other apps
This section is designed for apps with rare updates that cot featured in the news this week 👇
TestingCatalog project
Yes, I've changed the style of this newsletter again. However, the content is the same and I honestly hope that you will enjoy this format more. The main idea is to build a weekly comprehensive changelog with the most used Android apps that got covered in the news.
Alphabetical order should be the most straightforward to get used to.
What's next? Now I will really need some feedback from you!
Is it better than before? Is it easier to read? What do you think can be improved here?
Happy Testing!