Instagram is a platform, where you can share your life with the ones you love and value the most. It is used by more than 1 billion people around the world, and the community grows rapidly. Instagram is a stage for you to express yourself the way you want others to see you, by letting you share photos, videos, stories, etc., and edit them with the included comprehensive, but yet simple to use tools. There are also a huge number of augmented reality based stickers and effects for you to play with. The Instagram app for Android is designed for simplicity, while still packing an unbelievably large amount of features and settings at the tip of your fingers. All of these are just for you to feel comfortable while sharing your favorite and personal moments the best way possible. Some of the core features of Instagram, or IG for short, are: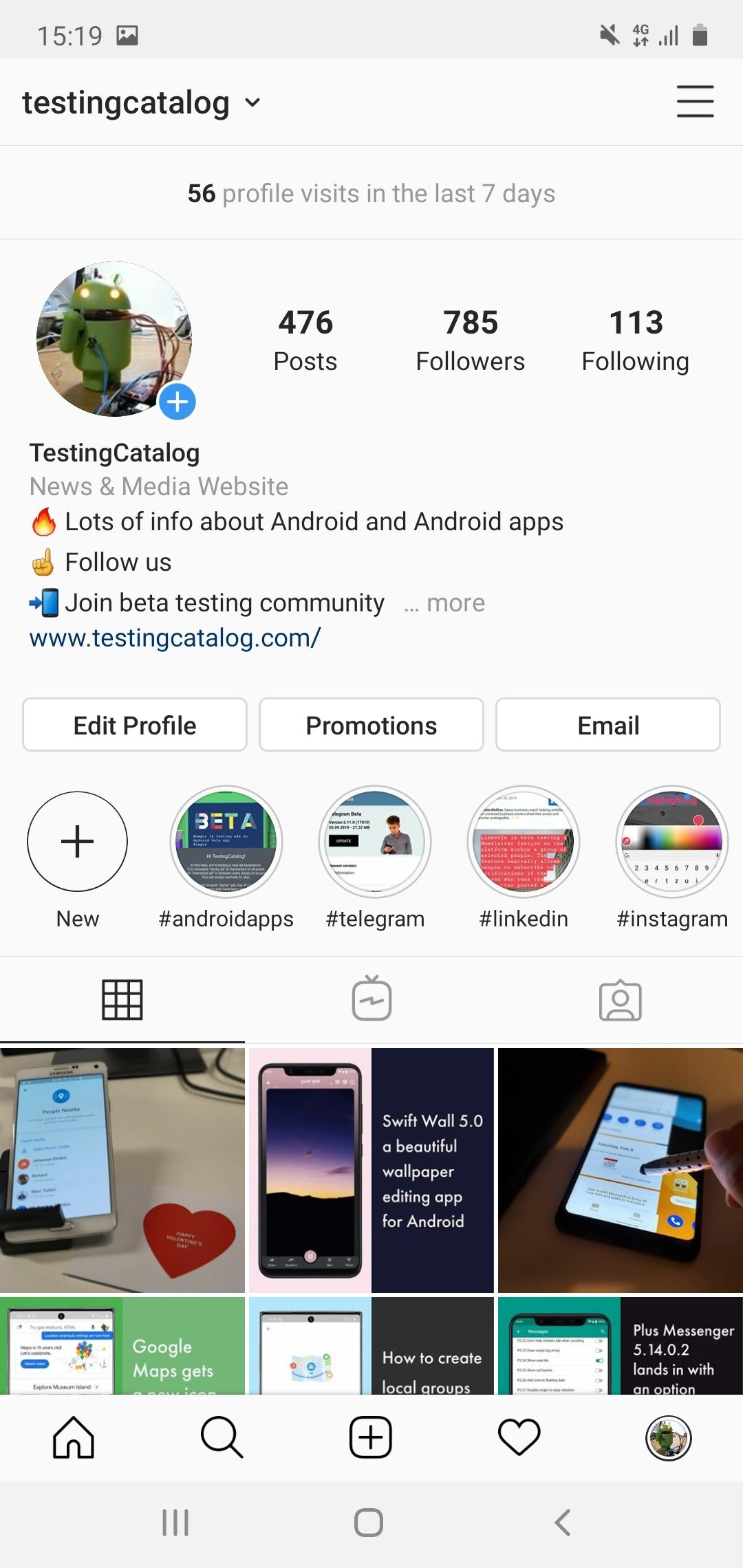 Application Features
Photo and video sharing
Share your favorite photos and videos with the world and edit them beforehand with the pre-included filters and dozens of other image editing tools. You can also combine multiple clips into one video to create the movie of your dreams and immortalize the moment, being it jumping from a cliff, your first kiss, your child's first word and so on. Feel free to experiment.
Feed
Browse photos and videos from the people in your 'Following' list on your feed and interact with posts from the people you care about by liking with a double tap. Also, engage with others by leaving comments on posts about your thoughts and feelings.
Stories
Share as many photos and videos as you wish to your story. Ignite your creativity by adding filters, AR stickers, emojis, drawings and text telling and showing what's on your mind, or share a thought from an incredible persona, matching your values and goals in life, or just your own ones. Keep in mind that stories disappear in 24 hours time and will never appear on your profile grid or on your feed. Always access stories from the bar with the bubbles at the top of your feed and do not miss anything.
Live videos
Go live and share the moment with the world, including your friends and followers. Post a replay of a live session and never forget about it.
Direct messages (DMs)
Send private messages to your friends from Instagram Direct, including photos and videos that disappear. Share with them content that you see on Instagram, and more. The possibilities are endless here.
Explore
Discover photos, videos, and stories you might like and follow new recommended accounts from the Explore tab. Also, there are a lot of categories, such as Music, Style, Science & Tech, TV & Movies, Humor, Auto, Travel, Fitness, Beauty, Art, Animals, and Sports for you to explore.
IGTV
Instagram TV or IGTV is Instagram's new platform, made to compete with the likes of YouTube and it is already very popular for its adoption of videos in portrait mode and used by many YouTubers. Access popular videos from IGTV content creators and people you follow just by one tap on the IGTV icon in the action bar.
Nametag
Nametag, introduced recently, is a feature that lets you easily find and add friends by scanning their unique QR codes. For more information about Nametag, check out our coverage in the article named "Instagram got a nametag feature released for some users and here is how you can use it".
App Description from Google Play
Bringing you closer to the people and things you love. — Instagram from Facebook

Connect with friends, share what you're up to, or see what's new from others all over the world. Explore our community where you can feel free to be yourself and share everything from your daily moments to life's highlights.

Express Yourself and Connect With Friends

* Add photos and videos to your story that disappear after 24 hours, and bring them to life with fun creative tools.
* Message your friends in Direct. Start fun conversations about what you see on Feed and Stories.
* Post photos and videos to your feed that you want to show on your profile.

Learn More About Your Interests

* Check out IGTV for longer videos from your favorite creators.
* Get inspired by photos and videos from new accounts in Explore.
* Discover brands and small businesses, and shop products that are relevant to your personal style.
Links
Follow our guide on TestingCatalog.com titled "How to get Instagram Alpha (or Beta) for Android". It covers the application process in detail both for the alpha and beta testing programs.
Just so you know, joining the Instagram Alpha Program on Google Groups is mandatory to apply for alpha testing. Also, most of the time, feature releases are undergoing server-side testing, so you may not always get to test them instantly when you install an alpha or a beta version. Usually, they get different features all the time, thus, keep checking our website for more insights about IG.
Bug Reporting
If you notice a bug or an issue on Instagram running on your Android device, please, see for yourself "How to report bugs for Instagram Beta and Alpha on Android" and get it taken care of. For troubleshooting tips, you can visit Instagram's Help Center.
Instagram Info Center
For more information about the company and the people behind it, browse their Info Center webpage, where you can read articles about their future strategies, vision and their current position on the market. See in a chronological order the introduced IG features and changes to the platform, including the current user base and more, by heading into the Our Story subpage.
📲 Follow TestingCatalog on Instagram @testingcatalog.
Join the Instagram Alpha or Beta and get to test out the upcoming features much earlier than other users. Also, please do share our website with your friends, because, as they say, sharing is caring!