Facebook is the number one social media platform all around the world, with a user base over two billion monthly active users as of today, and continuously growing. It is available for users at the age of 13 and above and used by everyone. Facebook is a place to share and communicate, entertain and educate yourself, with unlimited amounts of information all around. Express yourself and your ideas related to topics that you are interested in, including music, art, tech, politics and more. Use Facebook as your primary album for photos and videos and never forget about them. Access them on every device and everywhere instantly.
The Facebook app for Android has all of the features that the Desktop variant has, and perhaps, even more, tiny ones. Below are some of the most outstanding features and a brief description of each of them: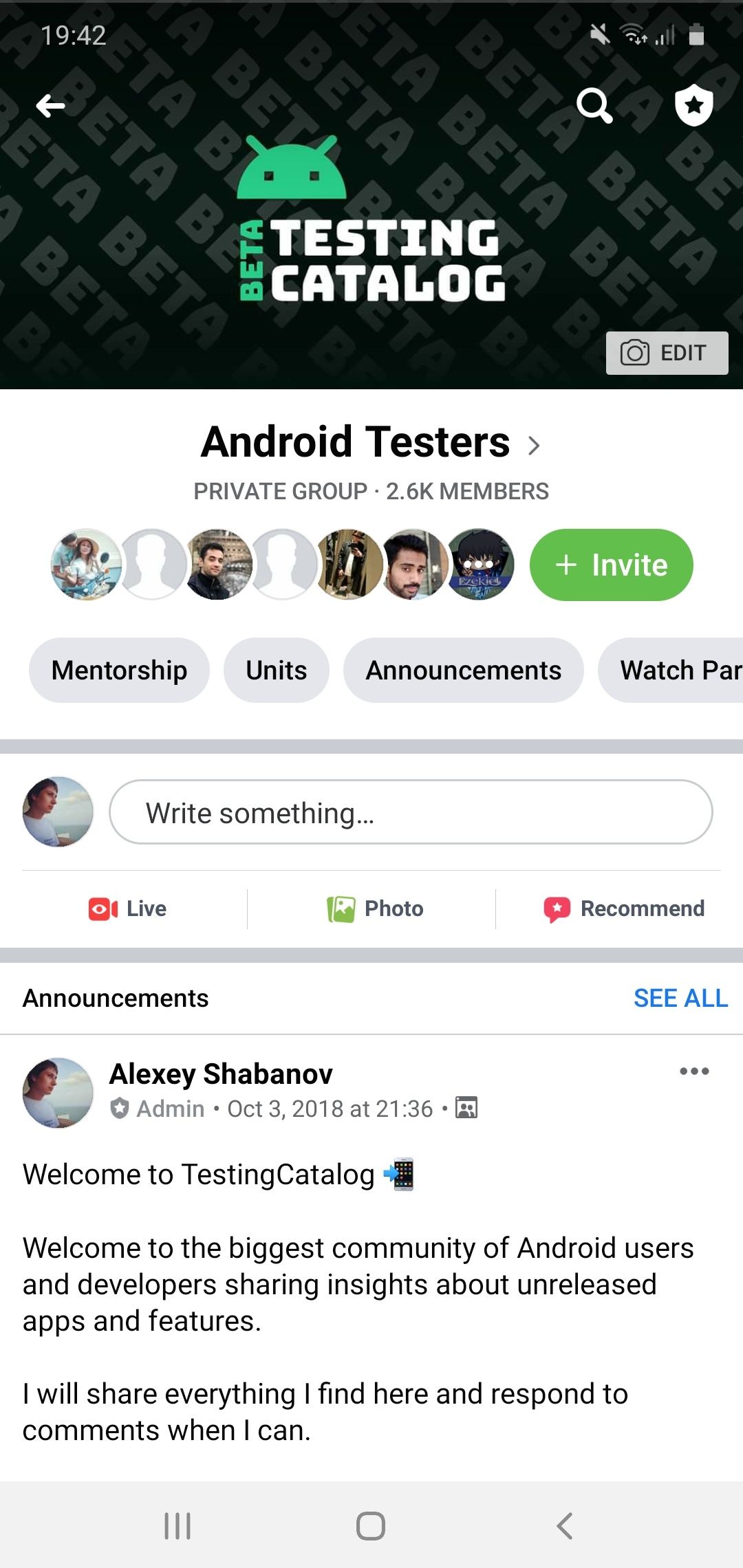 Facebook Feed
Your Feed is a window to the virtual world of social media, where you can glance at the unique posts shared by your friends, family and beloved ones in an infinite list.
Facebook Posts
By creating a post you share your personal moments, thoughts and beliefs with others. Engaging happens by pressing the famous 'Like' and 'Comment' buttons which are always below your fingertips, and below every post, of course. Also, long pressing on the like button activates reactions, so be sure to use it. For more details about the tools available for composing a post on Facebook, you can read our article titled "Facebook posts on Android - the dos and don'ts".
Facebook Groups
Groups let people with the same interests meet, chat and engage with each other. They can be public, closed or secret, and anyone can create one and add people. Some other use cases for creating a group can be based on the idea of letting friends, families, co-workers, etcetera communicate easily.
Facebook Pages
Creating a Page is a way of connecting people based on a specific cause, idea, preference, brand and more. Also, there are millions of singers, actors, artists, and celebrities to like and follow on Facebook.
Facebook Collections
Collections are a vault, letting you keep unlimited amounts of posts in a special place, where you can save and categorize them depending on your personal preferences. For more info, check out "Facebook Collections feature overview and how to use them" on TestingCatalog.com.
Facebook Marketplace
Marketplace is a convenient destination on Facebook to discover, buy and sell items with people in your community easily. You can find some great deals around your area and spend or make some cash quickly.
Facebook Live videos
Broadcast the moment to your audience in real time, or watch other live videos.
Upcoming features
Discover People
'Discover' lists people that you can be friends with by evaluating your and their interests and matching. It is similar to 'Explore' on Instagram.
Facebook Dating
Facebook Dating is a service, on which Facebook is working for the past year or so. It is intended to be a dating platform that is going to compete with Tinder and others.
Facebook Stories Stories on Facebook have the same concept as Stories in other apps - you post an image or a video and it disappears in 24 hours.
App Description from Google Play
Keeping up with friends is faster and easier than ever. Share updates and photos, engage with friends and Pages, and stay connected to communities important to you.

Features on the Facebook app include:

* Connect with friends and family and meet new people on your social media network
* Set status updates & use Facebook emoji to help relay what's going on in your world
* Share photos, videos, and your favorite memories.
* Get notifications when friends like and comment on your posts
* Find local social events, and make plans to meet up with friends
* Play games with any of your Facebook friends
* Backup photos by saving them in albums
* Follow your favorite artists, websites, and companies to get their latest news
* Look up local businesses to see reviews, operation hours, and pictures
* Buy and sell locally on Facebook Marketplace
* Watch live videos on the go

The Facebook app does more than help you stay connected with your friends and interests. It's also your personal organizer for storing, saving and sharing photos. It's easy to share photos straight from your Android camera, and you have full control over your photos and privacy settings. You can choose when to keep individual photos private or even set up a secret photo album to control who sees it.

Facebook also helps you keep up with the latest news and current events around the world. Subscribe to your favorite celebrities, brands, news sources, artists, or sports teams to follow their newsfeeds, watch live streaming videos and be caught up on the latest happenings no matter where you are!

The most important desktop features of Facebook are also available on the app, such as writing on timelines, liking photos, browsing for people, and editing your profile and groups.
Help Center
If you have issues downloading the app, visit Facebook's page with tips for troubleshooting. If it still persists, you can give feedback about it on their Help Center. There you can also find answers to some of the more frequently asked questions.
Links