How to leave a useful beta testing feedback
Update from 17.05.17 - Feature is temporarily disabled for refactoring
Starting from now, anyone can choose one of 6 options for each android application to start a small 5 step survey.
Before I will move into details, I want to explain an idea behind it.
One of the main goals of TestingCatalog is to become a connection point between beta testers and developers. Engaging beta testers to leave a feedback is one of the core features. I started experimenting with my ideas a long time ago and I tried many different things. In the end, I came up to the conclusion that Google Plus Polls work very well in our communities. Whenever I wanted to ask something I could expect 90% more engagement out of the poll rather than in a simple question. I did a couple of attempts to try a bug reporting forms and an app review forms but they were not very successful. Then I made a simple "google+ like" poll on the project page where users can report a problem with beta testing access and it worked very well. This feature was removed after the redesign but now it is back again!
You can attach an emotion to your feedback by clicking on the emojis below project details.
---
---
You will be asked to give an answer to 5 generic questions which will help developers to get a better understanding of their product. The first question is about beta testing access, so feel free to report your issues there.
---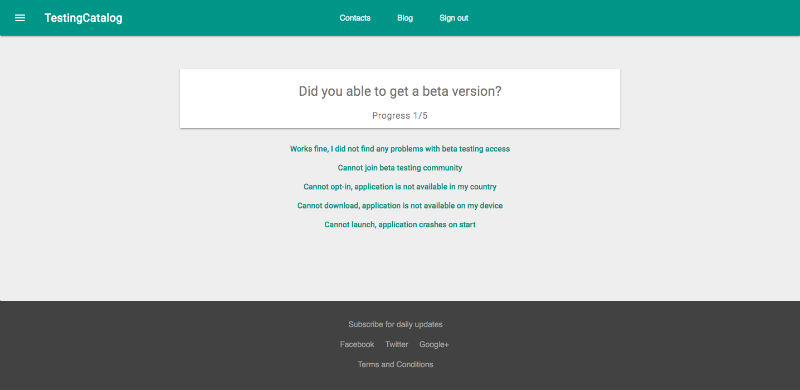 ---
My main goal was to make UX as simple as possible and close to the Google+ approach. Starting from the first question it will take you only 5 clicks to pass the whole survey. In addition, 6 emojis will become blurry in the end to help you to identify which feedbacks did you submit already.
---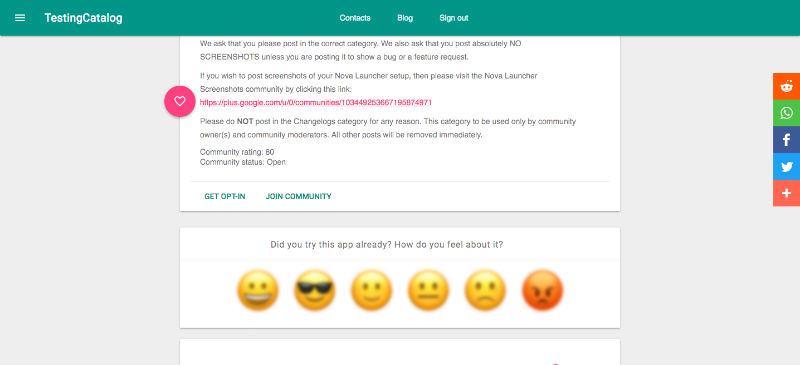 ---
Currently, those polls take no effect on your beta points and beta profile, but whatever you are doing now will be counted in future. In case if you change your mind about an app, you always can resubmit your answers. In the same time, your feedback is connected to the app version, so if you got an update on your device and if you have an opinion about it, please leave a feedback again.
This survey is the first step in my roadmap and as soon as I will have more data, you will see some interesting results.
Stay tuned!!!
P.S. our new Telegram channel https://t.me/betatestingcatalog